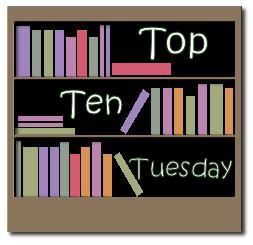 Top Ten Tuesday is an original feature/weekly meme created at
The Broke and the Bookish
:

Each week we will post a new Top Ten list complete with one of our bloggers answers. Everyone is welcome to join. All we ask is that you link back to The Broke and the Bookish on your own Top Ten Tuesday post AND post a comment on our post with a link to your Top Ten Tuesday post to share with us and all those who are participating. If you don't have a blog, just post your answers as a comment.

This week's Top Ten list is:

What are your top ten childhood favorites?
In no particular order:
1. The Island of the Blue Dolphins - Scott O'Dell
I loved this book so much. I read it for a test and flew through it in two quick days. I am gearing up for a reread on this one.
2. Where the Sidewalk Ends - Shel Silverstein
I loved Shel Silverstein's books. You were lucky if you found them in at the school library and if no one else had checked them out yet. I loved these stories.
3. Wayside School Gets a Little Stranger - Louis Sachar
This was one of the newer Wayside books, but the first one I read. I will never forget the throwing out the window test of gravity, the cows, and the students themselves! Such a fun book for a preteen.
4. The Outsiders - S.E. Hinton,
7th grade. Coming of age. Even though it was the 50s for Ponyboy, I could relate to him so much! Two-bit, Sodapop, Darry, Dally and of course, Johnny. All of these characters I look back on fondly as a remembrance to the entrance to my adolescence.
5. The Lion, the Witch and the Wardrobe - C.S. Lewis
This book, and this series, are the ones that started me back on reading after I fell away from it. I will forever love this series for that reason, but also for its awesome world of fantasy and wonder.
6. Tuck Everlasting - Natalie Babbitt
Oh man the tears when I read this book. I didn't understand her choice. The 12 year old me would have chose eternal love in a heart beat. But I loved the book regardless.
7. Titanic: The Long Night - Diane Hoh
I remember this one too. Right at the beginning of my Titanic phase. These stories tore my heart. And I thought that this book ended better. And were far better characters than Jack and Rose.
8. Little Women - Louisa May Alcott
I think I read this after I saw the movie, but I loved the book just as much. Who could not love growing up with these girls. Seeing their lives change from year to year while their sisterly dynamic pretty much stayed the same.
9. Aesop's Fables - Aesop
At a time when I wasn't reading too much of anything, I found the mythology club. Then I found these stories. I read them and loved them.
10. This book about milk and where it comes from.
You know, I couldn't remember the name of this book if I tried. Why? It's because it was the first book I can remember my parents reading to me. It was how we get milk (my grandfather was a milkman) but it was with pigs not people. That's all I remember