Read a book involving Greek and/or Roman gods. May be non-fiction or fiction. Half-blood Gods are fine.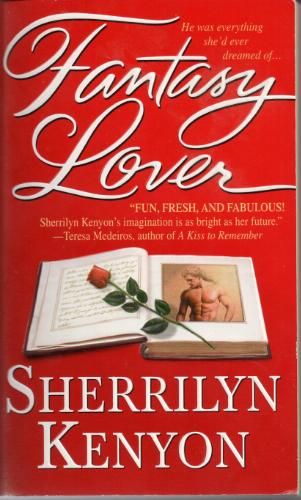 Book Title/Author:
Fantasy Lover by Sherrilyn Kenyon
Publisher/Year Published:
2002 by St. Martin's Paperbacks
Where I got it:
I own it. I think I purchased it from Half Price Books back in the day
Rating:
3/5 stars
Fantasy Lover
is the first in The Dark-Hunter series. Well, I would call it more of a prequel to the series because it stands alone quite nicely and really doesn't have any part in the mythos of the Dark-Hunters. It does the following: 1)sets up the thoughts that the gods are a part of life, even still today 2)mentions the character of the real first Dark-Hunter book a couple of times.
But let's get to the actual book, shall we? This book stars Grace, a frustrated sex therapist who is not getting any herself. Her concerned friend gives her a supposedly ancient book that will help alleviate this problem. Skeptical Grace gets drunk enough to say the enchantment that will release the sex slave from the book. It works and Julian, an ancient demigod who has been cursed in the book since Sparta was a viable state, pops out and starts wanting to get his freak on. Grace, though drunk, does not and decides to help him get out of the book with all that entails.
Writing that all out makes the book sound ridiculous, but in actuality it is quite funny. The premise is interesting. Ancient Greek sex slave, yours for a month! And the characters are very well rounded. Some of the secondary characters I love to death. Take for instance Cupid and Psyche, the bikers. Cupid, excuse me, Eros wears his bow on a little necklace!
If you like romance novels that have humor in them and a little bit of the super natural, I recommend this book. There is no commitment to the rest of the series as it wraps up quite nicely at the end. I'm not sure what number the Dark-Hunters are on now. I fell off the wagon when they all were the same plot with a slightly different take. But the first ones were quite enjoyable, starting with
Fantasy Lover
.
Sorry, followers. I thought this posted quite awhile ago. Apparently I screwed up the scheduling. My bad.