Oktoberfest Is A Sixteen-Day Festival Held Each Year In Munich, Germany During Late September (And Running To Early October). - Read A Book Written By A German Author, Set In Germany, Or A Non-Fictional Book About Germany. (*To Enhance Your Reading You May Choose To Eat Some German Food Or Drink A German Beer But It's Not Required).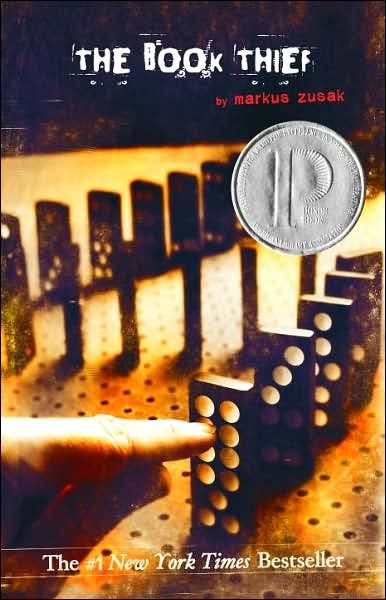 Book Title/Author:
The Book Thief
by Markus Zusak
Publisher/Year Published:
2006 by Knopf Books for Young Readers
Where I got it:
My college library
Rating:
5/5 stars
Rarely do I give a book 5 stars. On my Goodreads shelf, I have a total of 5 out of 300 read books listed as 5 star reads. That's a whopping 1%. This book was one of those five.
I discovered
The Book Thief
when looking for books that fit this task. I found through various sources that it was set in WWII in Germany and follows around a little child. Nothing particularly interesting. I've read that story before, and most of them were done fairly well. What was going to set this book apart for me? What would make this just not another book about WWII?
Answer: The narrator: Death. This character grabbed me from the beginning. How often do you see Death personified? And in such a prominent role! He was entertaining, witty, well-written, and so many other adjectives that listing them all would be quite ridiculous. The point is the addition of Death as a character, the narrator, really gave this book a unique twist.
The Book Thief is a book that dragged me across the spectrum of emotion. I laughed out loud, I cried so hard I could barely see the pages. I couldn't put it down, I dare not pick it up (so I wouldn't lose the whole day reading). It was such a highly engaging book for me.
An interesting fact that you may or may not know is that it was marketed in Australia (where the author is from) as an adult book but in the US as a YA novel. It made me think of the blurred lines between YA and Adult literature. Who defines how it is marketed in which country? Does what a westerner read differ that greatly across the nations? An intriguing through for sure, but maybe for another post.
The Book Thief
is an astounding read. It takes a time we know a lot about from school and various PBS specials and gives it a whole interesting twist.