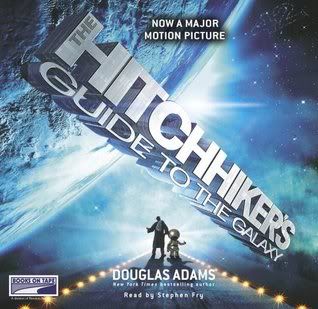 Book Title/Author:
Publisher/Year Published:
2005 by RH Audio
Where I got it:
The library
Rating:
4/5 stars
Challenges:
A to Z Male Name: Z, A to Z Female Name: T, A to Z Book Title: H, A to Z Authors: D, 2011 TBR Challenge
Summary:
via Goodreads
Don't leave Earth without this hilarious international bestseller about the end of the world and the happy-go-lucky days that follow. Join the gruesome twsome of Arthur Dent and his friend, Ford Perfect, in their now-famous intergalactic journey through time and space.
Thoughts:
I can't believe it took me this long to read this, well listen to it anyway. Back in 2004 I took a novels class where we were allowed to chose our own books. My one friend read this trilogy and told me I would love it. Well 6ish years later and I finally got around to it!
I think I really liked this book hearing it read to me by the lovely Stephen Fry. Would I have liked it just reading it myself? Sure. But I really think that his voices and twists on some of the dialogue really brought it to life for me during the snow-filled trecks home from work.
The most interesting part for me was stumbling across a word or phrase that I'd heard thrown around before and realizing that it originated in this book! And it was so nice to finally hear the story behind the answer to the life, universe and everything!
It's hard for me to describe this book in review form. I read a review on Goodreads that mentioned that however you feel about Monty Python is how you will feel about this book, and I think that is true. It's out there comedy; sometimes it's extremely random. But overall, it's super entertaining! So if you like fantastical fantasy and random insanity, I think that you would enjoy reading or listening to this book!
I plan to continue my listening journey with the other 4 audiobooks and also the radio plays!