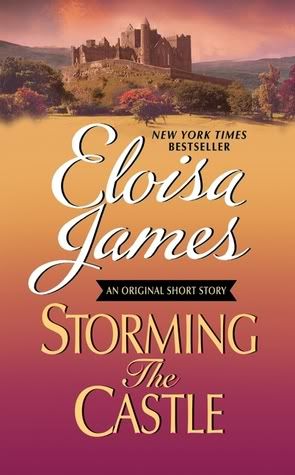 Book Title/Author:
Storming the Castle by Eloisa James
Publisher/Year Published:
2010 by Harper Collins
Where I got it:
I downloaded it for my Nook
Rating:
4/5 stars
Challenges:
n/a
Summary:
via Goodreads
What Miss Phillipa Damson needs is a good, old fashioned knight in shining armor. What she has is a fiancé she never wanted and a compelling urge to run away. But if she manages to escape, will she find her happily ever after?
I love Eloisa James' stories. I like being up to date on what she is writing, hence I follow her witty remarks on facebook and twitter. This is how I learned about this companion short story to
A Kiss at Midnight
,
Storming the Castle
.
This book did not feel like a short story to me. Nothing felt rushed; things were fleshed out beautifully to the point that after I finished I felt the same euphoric feeling I get after I finish a full length novel with characters I love. Phillipa and Wick are to die for. She knows what she wants and takes a huge risk to go out and seek her own path in life. Wick is as charming as ever, bringing the character that I loved so much back from
A Kiss at Midnight
.
If you want a quick little novella about two adorable characters, this is your story. It was so nice to have it in line with me during the holidays. In fact, I am pretty sure I finished it in line at Wal*Mart.
This book is available on eBook only, but it was worth my $2.00