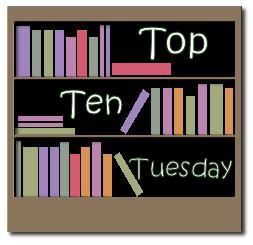 Top Ten Tuesday is an original feature/weekly meme created at
The Broke and the Bookish
. Everyone is welcome to join in.
This weeks Top Ten is
Top Ten Books I resolve to Read in 2011
. This kind of relates to the books I have on my
2011 TBR Challenge
. So what I am going to do is pull ten off that list and extrapolate a little of why I want to read them and what I have been waiting for!
1. The Hitchhiker's Guide to the Galaxy by Douglas Adams
My favorite class that I took in high school was called "Classic and Modern Novels." This class consisted of 40 minutes a day of uninterrupted reading during school. It was bliss because there were only a few rules 1) Two Classics 2)read 30 pages a night (ha) 3)do an essay after you finish a book. I loved it. Now what does this have to do with Hitchiker's Guide? One of my friends in the class read the trilogy (lol) and I have been wanting to read it since then.
2. Middlesex by Jeffrey Eugenides
The first book I put on my Goodreads TBR list back in December of 2007. Enough said I think.
3. 1984 by George Orwell
I've been told by so many people that this book is good. I want to be able to say so for myself.
4. Beauty: A Retelling of the Story of Beauty and the Beast by Robin McKinley
Love fairytale retellings! And I have heard this one is one of the best!
5. I Capture the Castle by Dodie Smith
ANother book that has been recommended to me from multiple sources.
6. I Am the Messenger by Markus Zusak

I read The Book Thief and really wanted to read more by Zusak. My sister read this book and right now is reading The Book Thief. She reiterated how good this book is and how I should read it.
7. Everything Is Illuminated by Jonathan Safran Foer
I really want to try this author. I think this would be a good book for my book to movie comparisons.
8. Catch-22 by Joseph Heller
I wanted to read it in high school and never got around to it.
9. Paradise Lost by John Milton
This is a life goal of mine. It will be a challenge but I really, really want to get through it. And understand it too.
10. Lady Most Likely by Julia Quinn, Eloisa James and Connie Brockway
This one isn't actually on my list, but I've seen it promoted so much that I really want to read it. Also, I just realized something. When I was in high school, 3 friends and I used to take turns on something we called "The Notebook" (nothing to do with Nicholas Sparks though ha). We should each write a chunk of story and then tag the next person to continue it. It was so much fun. That's what these three ladies did with this romance novel, and I am excited to read how it turned out!