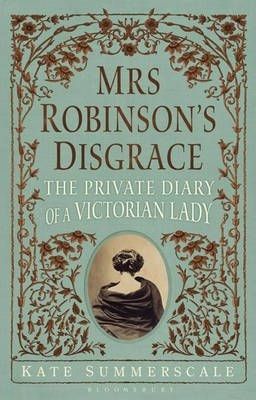 Book Title/Author:
Mrs Robinson's Disgrace: The Private Diary of a Victorian Lady
by Kate Summerscale
Publisher/Year Published:
June 2012 by Bloomsbury
Where I got it:
NetGalley first, then I accidentally let it expire and had to wait a long time to finish it from the library
Rating:
3/5 stars
Summary:
via Goodreads
Headstrong, high-spirited, and already widowed, Isabella Walker became Mrs. Henry Robinson at age 31 in 1844. Her first husband had died suddenly, leaving his estate to a son from a previous marriage, so she inherited nothing. A successful civil engineer, Henry moved them, by then with two sons, to Edinburgh's elegant society in 1850. But Henry traveled often and was cold and remote when home, leaving Isabella to her fantasies.

No doubt thousands of Victorian women faced the same circumstances, but Isabella chose to record her innermost thoughts—and especially her infatuation with a married Dr. Edward Lane—in her diary. Over five years the entries mounted—passionate, sensual, suggestive. One fateful day in 1858 Henry chanced on the diary and, broaching its privacy, read Isabella's intimate entries. Aghast at his wife's perceived infidelity, Henry petitioned for divorce on the grounds of adultery. Until that year, divorce had been illegal in England, the marital bond being a cornerstone of English life. Their trial would be a cause celebre, threatening the foundations of Victorian society with the specter of "a new and disturbing figure: a middle class wife who was restless, unhappy, avid for arousal." Her diary, read in court, was as explosive as Flaubert's Madame Bovary, just published in France but considered too scandalous to be translated into English until the 1880s.
This was a really cool book! I love that it's actually true and not just the normal romantic fiction that I read. In between the story of Mrs. Robinson's Disgrace is woven other tales of the Victorian Era. Charles Darwin features often in the second half of the book. Dickens is mentioned as well. I would highly recommend this to anyone who wants to know more about the life and times of the upper-middle class in Victorian England.
The romance and inevitable disgrace itself is told through tidbits collected from Isabella's letters and infamous diary. I find it interesting how often that diary is used. I mean, I have tried to do the diary thing but I lose interest in it pretty quickly. At one point, Summerscale makes the point that due to her horrid marriage Isabella is lonely. Thus her diary becomes her friend. I guess if I had no friends, and no internet, to talk to my diary would be used quite frequently as well.
Mrs. Robinson's Disgrace held my interest more than a plain old biography. I was so caught up in it that sometimes I forgot it was real. I really didn't know how the book would end up going through it. It read more like a fiction novel intersperced with real history, but then I would shake my head and think, "No. This is real."
As a reader of historical romance, I enjoyed this. If romance readers want a hint of a REAL romance story, check this out. This is one history book I wouldn't miss.
Why not more stars though if I loved it so much? Well as interesting as it was sometimes there was just too much history for me, especially during the trial. I really wanted to know what happens, not how Darwin would take to the waters. But this particular criticism is probably mostly due to my own struggles with non-fiction.
Overall this was pretty much just a good book. Check it out!
PS: I found about this book through NetGalley, but I waited too long to read it and my book expired! So I waited and immediately grabbed this from the library to finish it because I wanted to so badly know what happened to Mrs. Robinson.