Let's Play The Name Game
A. For the first half of the task, read any book you like of at least 100 pages.
AND
B. For the second half of the task read another book (of at least 100 pages) whose author's first or last name, is the same as the last name of the author of the book you read for the first half of the task.
Well, I've finished the first half of this challenge, and decided to do the review for that book: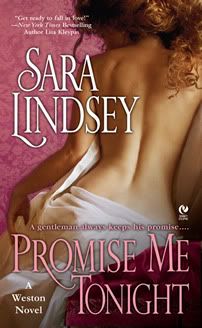 Book Title/Author:
Promise Me Tonight by Sara Lindsey
Publisher/Year Published:
2010 by Signet
Where I got it:
Another... interesting cover. It called to me when looking for an eBook to read that fit a challenge.
Rating:
2/5 stars
This book is about a girl, Isabella Weston, who falls in love with her neighbor, James (who is best friends with her older brother), at an early age. She knows she will marry him and stops at nothing to get the outcome she desires. James, a emphatic bachelor, though stunned by the beauty she has turned out to be, is unmoved by her machinations. Hijinks ensue.
There were times when reading this book that I literally laughed out loud. Sadly, these times did not outweigh the times I was sighing in exasperation.
The character's are not bad. In fact, their dialog was occasionally some of the wittiest that I have read in this genre in a while. They have potential, but they fit too well into types that I could read anywhere and written better.
It's the author's first novel, so I may give her another chance once she has had some time to polish things up, but right now it was just not engaging, boring and repetitive. I sometimes had problems understanding why characters acted the way they did and why what they ended up doing was even an option in the first place. It proved to be more frustrating than enjoyable.
It didn't help that my eBook was somehow missing most of chapter 21 but at that point I had given up the redemption of this book.
Too much misunderstanding, not enough sexual tension. But there were times when I laughed at loud.
Maybe in a couple of years I'll give some of the other Weston siblings a chance.