For this task read a book found on page 3, 4, or 5 of the following list: Books That Everyone Should Read At Least Once. When posting this task explain why the book you read should or should not be on that list & what book you think should be at the top of the list.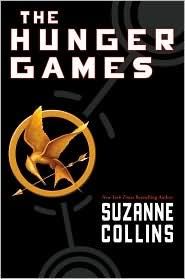 Book Title/Author:
The Hunger Games by Suzanne Collins
Publisher/Year Published:
2008 by Scholastic Press
Where I got it:
It was one of the few books on the aforementioned list at my college library
Rating:
5/5 stars
Posted March 2010:
This book was a very pleasant surprise. I set out in search of book that was not completely negative on humanity and somehow ended up here. But despite my current lack of faith in humanity, this book took me away from my present troubles and completely engrossed me. It brings up a lot of interesting problems with the general human condition, including what problems could occur in this society not completely removed from our own. Honestly the way I am so in love with this book at the moment, this is the book I would move to the top of the list.
Since writing that blurb, literally seconds after finishing, I have had a little bit more of a chance to think about Katniss Everdeen and the Hunger Games.
I enjoyed this book because it took me back to being a teenager. There were times reading this as the 23 year old that I am, where Katniss's decisions made me think, "No, she would not have done that." or "Clearly, Katniss, you are stupid in that you can see *this thing*" But then, I think it was with one of her moments with Peeta, one of the male leads, that made me think about how me-centric I was at 16 and how even though she lives in a scary dystopian world where she has had to be an adult, she is still a kid and does not know everything. After that point, reading it I could remember how I felt at 16 and yeah, I would have done some of the exact same things that she does.
I can't imagine how I would be at 16, still not an adult but you think you are, in a world where you are forced to hunt for your family's survival and then get thrown into the hunger games where you have to kill to survive.
The plot just grips me. See how these characters interact and react to and with each other is what keeps me reading.
In a related note, over at
The Broke and the Bookish
today, Taheen reviewed a YA book targeted toward the male audience. And it made me think about Harry Potter and J.K Rowling having to be J.K and S.E. Hinton having to be S.E. And I wondered why Suzanne Collins gets to be Suzanne? I pondered this and then looked at the cover again. It is very masculine. Or I guess it's appropriate for the content but at the same time it does not show a girl on the cover or anything of the sort to detract male readers with girl cooties.
One more thing, before getting used to them, these names sometimes really bugged me. The one that continually makes me laugh, though, is Peeta. I mean seriously. His name is Peeta and he works at a bread store. Really? Peeta bread? lol