In honor of Six Degrees of Separation (play premiered on May 16, 1990) and Six Degrees of Kevin Bacon (headlined on April 7, 1994, do the following:

A. Read any book off your TBR
AND
B. Read a book that the author is at a maximum of six degrees of separation from the author in Part A. In your post for this task you must explain the connection in order to get credit.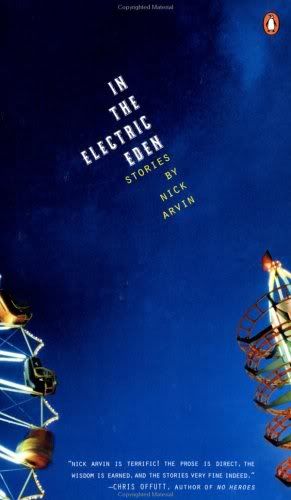 Book Title/Author:
In the Electric Eden: Stories by Nick Arvin
Year Published:
January 28th 2003 by Penguin (Non-Classics)
Where I got it:
New books shelf at my campus library
Rating:
2/5 stars
This was the second book in the Six Degrees Challenge. I found this collection of short stories on the shelf at my library and it looked interesting. Some of these stories were really interesting, but most of them were ridiculously depressing.
Overall it was okay. Nothing I would pick up again, but most of the stories made me think, if not about life then at least how many pages were left until the next one started.
Although, my inner computer scientist does have to give props to the phrase "binary smile."
Again, how I completed the 6 degree challenge:
Book A: Fahrenheit 451 by Ray Bradbury
Book B: In the Electric Eden: Stories by Nick Arvin
Ray Bradbury wrote Fahrenheit 451 which is being (re)made into a movie directed by Frank Darabont.
Frank Darabont also directed The Shawshank Redemption, The Green Mile, and The Mist, all written by Steven King.
Steven King was on Late Night with Conan O'Brien in Feb 1999
Conan O'Brien also interviewed Fred Savage in Feb 1999
Fred Savage graduated from Stanford where Nick Arvin is also a grad.