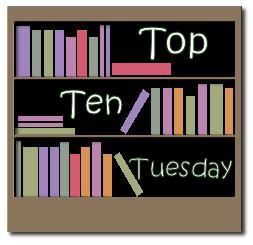 Top Ten Tuesday is an original feature/weekly meme created at
The Broke and the Bookish
. Everyone is welcome to join in.
This week's top ten is:
What are your top ten all-time favorite books?
1.
The Harry Potter Series
by J.K Rowling
So as you will see throughout this list, I cheated. Badly. I love HP. I could read it thousands of times and not get sick of it. But right now my favorite out of the 7 is 3 but I've only read 6 and 7 once. So there is that. I am planning on doing a GREAT REREAD before November!
2.
Angels and Demons
by Dan Brown
So sue me. I love this book. It is made of crack for me. It may be that it sends me back to Rome. I can see all the sites as Langdon does. This is the best Langdon book out of the three. The other two are just... God awful. But this one is great.
3.
The Time Traveler's Wife
by Audrey Niffenegger
I could read this every day. I get so involved with the characters and it never fails to bring me to tears. I love the back and forth between the two lives. Normally I hate first person books, but man do I love this.
4.
The Bridgerton Series
by Julia Quinn
Again, another cheater. This is a romance series about 8 siblings named in alphabetical order (Anthony, Benedict, Collin, Daphne, Eloise, Francesca, Gregory and Hyacinth). Each has their own book where they find their respective love. I recently read them all over again and just became connected to each and every one of them. I could relate in some way be it big or small. And they are quite funny books. If I had to choose out of them though, the last reread's favorite was On The Way to the Wedding (Gregory's book)
5.
The Hunger Games Series
by Suzanne Collins
Man, this series grabbed me and still has not let go! I was sucked in right from the beginning into this dystopian world where kdis fight to the death. I am on pins and needles waiting for the conclusion in a month. If I had to chose between the two I've read, The Hunger Games is where it is at.
6.
The Book Thief
by Markus Zusak
I don't even think I could tell you what this book was about besides a girl with Death as the narrator. But I do remember how it made me feel and the reactions it induced in me. It moved me enough to give it a 5. I rarely give 5s.
7.
The Desperate Duchess Series
by Eloisa James
Another romance novel series. This one is Desperate Housewives meet Georgian England. I fell in love with the characters who were reoccuraning throughout the series which made some of the more memorable ones the last ones. Plus there is chess. My favorite is the 6th and last, A Duke of her Own.
8.
The Lord of the Rings
by JRR Tolkein
I went through a Tolkein phase when I was in high school. I read the whole series and the Simarillion (I liked elves). But this series (outside of the tl;dr detail in some of the rock/forrest scenes) is awesome. The movies bring it to life, but especially Return of the King, I can feel the war. I can feel their emotions. Plus awesome made up languages.
9.
The Lords of Discipline
by Pat Conroy
I'm not usually into military novels, but this one was so interesting and slightly mysterious. I read it for a high school novels class. At first I was "Meh" but by the end I could barely read through my tears. It was such a moving book. Highly recommended.
10.
Dance with the Devil
by Sherrilyn Kenyon
I started off loving the Dark-Hunter series, and this is one of the beginning of it. I think it is the 3rd or 4th. I love this one. The message is to not judge a book by its cover, everyone has depth, you never know where someone else has been. It's just beautiful. Then more recently the series has turned to repetitive trite but that is a different story.