So technically I read this book before I started doing reading challenges, but as I was looking through the Goodread's Giveaways today, I ran into a book that reminded me of how much I liked
The Blood of Flowers
. I thus thought, "I must review it"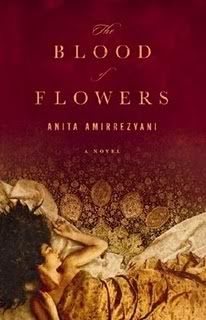 Book Title/Author:
The Blood of Flowers
by Anita Amirrezvani
Published
: 2007 by Little, Brown and Company
Notes:
I picked it up off the new books shelf at my local library because I liked the cover and the title drew me in.
Rating:
I originally had it as 3/5 but the longevity of the feeling that has stayed with me made me bump it to a 4/5
In 17th-century Persia, a 14-year-old woman believes she will be married within the year. But when her beloved father dies, she and her mother find themselves alone and without a dowry. With nowhere else to go, they are forced to sell the brilliant turquoise rug the young woman has woven to pay for their journey to Isfahan, where they will work as servants for her uncle, a rich rug designer in the court of the legendary Shah Abbas the Great. Despite her lowly station, the young woman blossoms as a brilliant designer of carpets, a rarity in a craft dominated by men. But while her talent flourishes, her prospects for a happy marriage grow dim. Forced into a secret marriage to a wealthy man, the young woman finds herself faced with a daunting decision: forsake her own dignity, or risk everything she has in an effort to create a new life.
These are some of the notes I jotted back in November 2007:
What I liked most about this book were the myth-like stories interwoven within the prose.

A well researched look into the live of a girl's journey to adulthood in the 17th century. I loved any scene when she was making a rug, her true passion which is withheld from her due to her gender.

Through many twists and turns this story kept me wanting to know more and more. A wonderful look at the evolution of this your girl to a woman.
It's funny. I reread this now and don't even remember the cute myths. What I do remember is the feeling that I got from this girls life. How I felt lucky to live in a time and place where I can make my own decisions about myself and my life.
I actually have no idea if this was well researched because I have not read much about ancient Persia, but I do know that this was an evocative tale that will stir the emotions of any woman. For better or for worse.
To tie this in to the "challenge" theme, this book takes place in ancient Iran so if you do the read around the world challenges, this is a good bet. Also Anita Amirrezvani is also Iranian.