Pick one of the following swim suit styles to fit your reading type.

A. Tank Suit - Read 1 book of at least 850 pages.
B. Bikini - Read 2 books totaling at least 850 pages and first published in 1946 (date of first named bikini) or later.
C. Tankini - Read 850 pages of book(s) published in last 5 years.
D. Victorian (The kind with sleeves, skirt & bloomers.) - Read 850 pages of book(s) published between 1834 and 1901.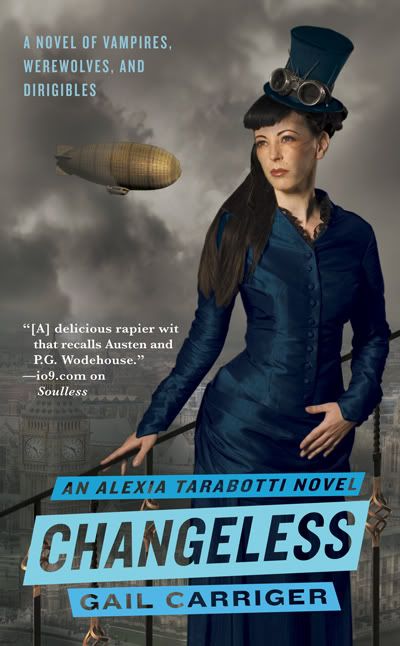 Book title and author:
Changeless (The Parasol Protectorate, #2)
by Gail Carriger (Goodreads Author)
Info:
published 2010 by Orbit
Where:
The new fantasy book shelf at the library
Rating:
3/5
Changeless
is the second in the Parasol Protectorate series that started with
Soulless
. This series follows the life of Alexia, a lady living in Victorian England, but she is not a normal Victorian lady. First of all, she is living in a world where paranormals are integrated into society. Second of all, she has no soul.
In this book she starts another adventure, a new job with the Queen. When some mysterious things start to happen to the supernaturals in London, she is tasked with finding out what and why this is happening. This may involve awesome weapons made out of an umbrella and dirigibles.
Compared to this first book, this one was not as gripping, but it was still entertaining. There were more characters introduced this time around and some of our old favorites returned where we found out more about them. The steampunk is in full swing with all of the awesome gadgets and science things. The climax had me reading without putting it down.
So why only a 3 out of 5? Well, with the more time spent with our heroine, the more she started to annoy me. She seemed quite inconsistent in her smarts. Maybe it's just limitations on her knowledge of the time, but she is continually called a blue stocking so I cant completely buy that. Lord Maccon was adorable in Scotland, but especially toward the end his stubbornness made me want to ring his neck! The secondary characters are amazing though.
The third book in the series,
Blameless
comes out August 31st. I found this awesome promotional video about the making of the cover. It's quite entertaining and interesting to see the process. I suggest you watch it and check out these books. They are really quite witty and entertaining. The writing makes me laugh out loud drawing quite a few looks from people around me.
Anyway check out the video! And the book!