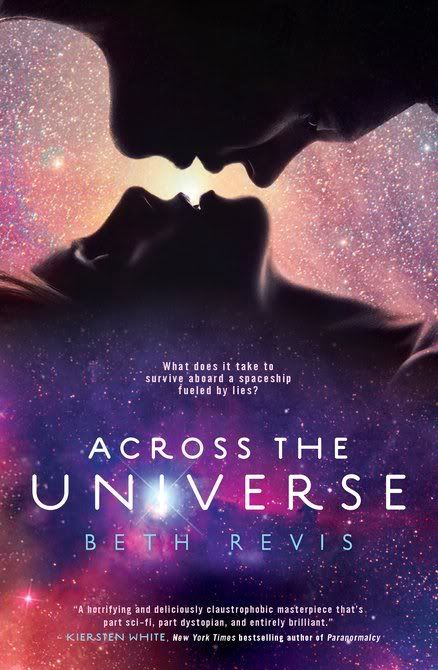 Book Title/Author:
Across the Universe by Beth Revis
Publisher/Year Published:
January 2011 by Razorbill
Where I got it:
The library
Rating:
4/5 stars
Challenges:
A to Z Challenges: Male Name (E), Female Name (A), Book (A) and Author (B)
Summary:
via Goodreads
Seventeen-year-old Amy joins her parents as frozen cargo aboard the vast spaceship Godspeed and expects to awaken on a new planet, three hundred years in the future. Never could she have known that her frozen slumber would come to an end fifty years too soon and that she would be thrust into the brave new world of a spaceship that lives by its own rules.

Amy quickly realizes that her awakening was no mere computer malfunction. Someone-one of the few thousand inhabitants of the spaceship-tried to kill her. And if Amy doesn't do something soon, her parents will be next.

Now Amy must race to unlock Godspeed's hidden secrets. But out of her list of murder suspects, there's only one who matters: Elder, the future leader of the ship and the love she could never have seen coming.
Thoughts:
I am shocked by how much I liked this book. I read an author Q&A around the release date and thought the premise sounded good, so onto the TBR library waiting list it went. It would probably be a quick read and if it was bad, I'd stop reading.
It was
not
bad.
You can read the summary above but basically there is a ship living in a fairly dystopian world, where a leader born to rule runs the people. The ship is on a trans-universal flight to inhabit a new earth and thus has frozen some smart people to help colonize it once they get there. Amy is one of those people. Well, she is the daughter who was aloud to be frozen, but she is accidentally woken up too early. Elder is next in line to be leader and is trained by Eldest, the current leader. With the unfrozen Amy now in his life he begins to question all that he knew.
Despite the summary being mostly about Amy, I really think this was Elders story, or at least I identified more with him. Everything he knew gets upended during his quest for discovering more about his destiny.
This book is gripping. The world that Revis builds is completely believable and interesting. She shows us the right amount of atmosphere without bogging us down in details. The narrative is told in first person alternating between Amy and Elder. It bothered me a bit occasionally but knowing how the course of the novel plays out, it was the best choice.
The novel is marketed YA, but I thoroughly enjoyed it and the questions it raises. I would recommend it to anyone who likes dystopian-science fiction. The way I would classify it would be a gripping science fiction book without getting bogged down in all the heavy details that science fiction books usually contain (I'm looking at you
Dune
).
Although, I am left with a general annoyance that was just kind of aggravated to the point of discussion. It seems that right now EVERY YA book is a damn series. This is too, (I found out by looking at the authors website) but that narrative doesn't suffer because of it. I fully believe that I could just read this book and be happy with how it wrapped up content that this is the end. That is the mark of a good first in a series book. I don't want to have to keep reading to finish a story that I started a book ago. So bravo on that account. You've passed this cynic's annoyance test with flying colors. So 1 point in her favor there.
I don't plan to stop reading here though. I like the voice and the concept of colonizing another planet, so I'll read on.