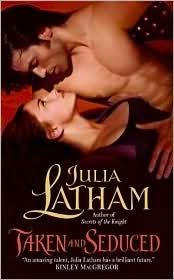 Book Title/Author:
Taken and Seduced by Julia Latham
Publisher/Year Published:
2009 by Avon
Where I got it:
The library
Rating:
3/5 stars
Challenges:
2011 Historical Romance Challenge
Summary:

He was seeking justice for those he loved . . .

Adam Hilliard, secret Earl of Keswick, lives for one thing: To kill the man who slew his parents. Raised in secrecy by the League of the Blade, he would do anything to restore his family's honor.

She was desperate to escape propriety . . .

Lady Florence Becket is the key to his revenge. But when he kidnaps her, Florrie is neither frightened nor furious, as most other young ladies would be. The bold and powerful stranger who spirited her from her father's castle could give her the freedom and adventure she craves.

They would find far more than they ever desired . . .

She is moved by his quest. He is captivated by her courage. They have no defense against the passion ignited by a single kiss. Adam has taken her from all she's ever known—but now Florrie will delight in her scandalous seduction.

Thoughts:
I've read other books by Julia Latham set right around this time (Middle Ages) and they are genuinely interesting. They were the League of the Blade books and I was quite entertained by them. This book is kind of the spinoff of the original series; it's called Raised by the Blade, so I was eager to read them.
One thing I have to say for this book is it doesn't mess around with wasting time. You just right into the "Taken" part of the title. I like plot driven books so this was nice for me.
Overall this was a nice romance. It wasn't amazing but it wasn't bad. There was nothing about this book that annoyed me so much I would want to stop and nothing that amazed me so much that I would remember it forever. I liked the traveling through England. The characters were relatable and engaging. THe plot clipped along.
It was enjoyable. If you want a nice break from all the historical regencies on the market take a look at Latham's books. They are quite a solid read.