via Tessadare.com
The heroes—a duke, a war hero, and a low-born scoundrel—hold shares in a priceless racehorse. When the club's founder is tragically murdered, these three unlikely associates are united by chance, divided by suspicion, and brought to their knees by love
Ah, romance! I love a series that ties together but is still loose enough to read on its own. I heard of The Stud Club and
Tessa Dare
through
Smart Bitches
, but I didn't get around to sampling this series until December/January.
I decided instead of making three reviews of each of these books, to do one big monster review. I'll give a nice little summary and a mini-review of each. The overall star rating was a 3-4 and I was not disappointed in any of them.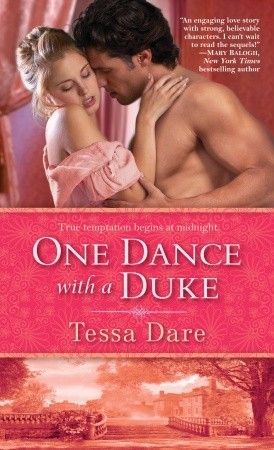 Book Title:
One Dance With A Duke
Publisher/Year Published:
May 2010 by Ballantine Books
Where I got it:
The library
Rating:
3/5 stars
Summary:
via Goodreads
A handsome and reclusive horse breeder, Spencer Dumarque, the fourth Duke of Morland, is a member of the exclusive Stud Club, an organization so select it has only ten members—yet membership is attainable to anyone with luck. And Spencer has plenty of it, along with an obsession with a prize horse, a dark secret, and, now, a reputation as the dashing "Duke of Midnight." Each evening he selects one lady for a breathtaking midnight waltz. But none of the women catch his interest, and nobody ever bests the duke—until Lady Amelia d'Orsay tries her luck.

In a moment of desperation, the unconventional beauty claims the duke's dance and unwittingly steals his heart. When Amelia demands that Spencer forgive her scapegrace brother's debts, she never imagines that her game of wits and words will lead to breathless passion and a steamy proposal. Still, Spencer is a man of mystery, perhaps connected to the shocking murder of the Stud Club's founder. Will Amelia lose her heart in this reckless wager or win everlasting love?
This was a great introduction to the series! Not only that, but it was a good stand alone book as well.
Both the main characters were interesting and well rounded and the plot kept moving. It was fun, there is an interesting tie that brings these people together, but I only gave it three stars.
The ending really started to drag for me. It just got a little repetitive. Also the ending made me just feel.. meh. The beginning and most of the book was really cool, and then I just lost interest. I would still recommend it though. It was worth my time.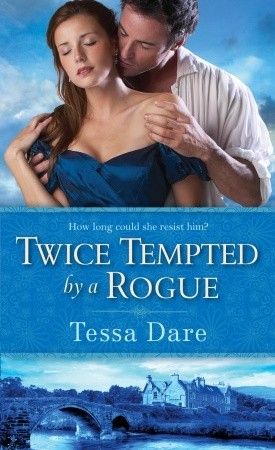 Book Title/Author:
Twice Tempted by a Rogue
Publisher/Year Published:
June 2010 by Random House Publishing Group
Where I got it:
The library
Rating:
3/5 stars
Summary:
via Goodreads
Luck is a double-edged sword for brooding war hero Rhys St. Maur. His death wish went unanswered on the battlefield, while fate allowed the murder of his good friend in the elite gentlemen's society known as the Stud Club. Out of options, Rhys returns to his ancestral home on the moors of Devonshire, expecting anything but a chance at redemption in the arms of a beautiful innkeeper who dares him to take on the demons of his past—and the sweet temptation of a woman's love.

Meredith Maddox believes in hard work, not fate, and romance isn't part of her plan. But when Rhys returns, battle-scarred, world-weary, and more dangerously attractive than ever, the lovely widow is torn between determination and desire. As a deep mystery and dangerous smugglers threaten much more than their passionate reckoning, Meredith discovers that she must trust everything to a wager her heart placed long ago.
The second stud club book takes us completely away from London and up into the wilds. I really enjoyed the small town feel of this book. The female lead is strong on her own and doesn't need the hero to come and save her from anything.
The fact that it does not take place in London is enough to set this apart from other romance novels set in the Regency, but the characters are interesting, the mystery from the first one continues on through this one and in general its just a good book.
I dont know if I would like this one more or less than the first book, but again it is enjoyable and I would recommend reading this one... especially because it leads to the third.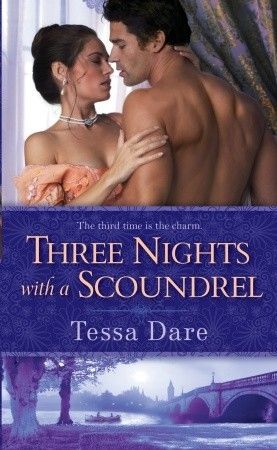 Book Title/Author:
Three Nights with a Scoundrel
Publisher/Year Published:
July 2010 by Ballantine Books
Where I got it:
Borders Blowout Sale
Rating:
4/5 stars
Summary:
via Goodreads
The bastard son of a nobleman, Julian Bellamy is now polished to perfection, enthralling the ton with wit and charm while clandestinely plotting to ruin the lords, ravish the ladies, and have the last laugh on a society that once spurned him. But after meeting Leo Chatwick, a decent man and founder of an elite gentlemen's club, and Lily, Leo's enchanting sister, Julian reconsiders his wild ways. And when Leo's tragic murder demands that Julian hunt for justice, he vows to see the woman he secretly loves married to a man of her own class.

Lily, however, has a very different husband in mind. She's loved Julian forever, adores the man beneath the rakish façade, and wants to savor the delicious attraction they share—as his wife. His insistence on marrying her off only reinforces her intent to prove that he is the only man for her. Obsessed with catching a killer, Julian sinks back to the gutters of his youth, forcing Lily to reach out with a sweet, reckless passion Julian can't resist. Can her desire for a scoundrel save them both—or will dangerous secrets threaten more than their tender love?
Ah, finally! My favorite! This book grabbed me and didnt let go! I am pretty sure I read this in about 24 hours.
Why did I like this one more? The characters are so unique and interesting in the romance novel world! Let's take a look.
Lily is deaf. She was sick as a girl and lost her hearing, so this already makes for an interesting perspective. I loved seeing how she interacted at a dinner scene or could read lips pretty well, but could hardly ever get new names.
Then there is Julian. He is trying to assuage his guilt over his friends death all the while trying to fight his love for Lily. Among other things. There are some things I dont want to spoil :)
I think I love this book because I know the characters. I know the background of what Julian is doing. The characters themselves have a history that we may not know at the beginning of the book, but sometimes its nice interacting with a book where the characters aren't love struck.
So there we have it. The Stud Club trilogy. Would I recommend it? Yup! It was really entertaining! Very satisfying as well.