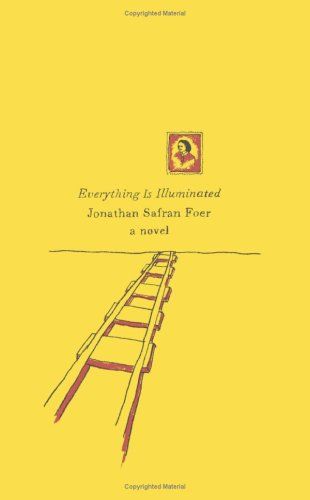 Book Title/Author:
Everything is Illuminated
by Jonathan Safran Foer
Publisher/Year Published:
Oct 2008 by Harper Perennial (first published in 2002)
Where I got it:
I got it from Half Price Books
Rating:
4/5 stars
Summary:
via Goodreads
With only a yellowing photograph in hand, a young man - also named Jonathan Safran Foer - sets out to find the woman who might or might not have saved his grandfather from the Nazis. Accompanied by an old man haunted by memories of the war, an amorous dog named Sammy Davis, Junior, Junior, and the unforgettable Alex, a young Ukrainian translator who speaks in a sublimely butchered English, Jonathan is led on a quixotic journey over a devastated landscape and into an unexpected past. As their adventure unfolds, Jonathan imagines the history of his grandfather's village, conjuring a magical fable of startling symmetries that unite generations across time. Lit by passion, fear, guilt, memory, and hope, the characters in Everything Is Illuminated mine the black holes of history. As the search moves back in time, the fantastical history moves forward, until reality collides with fiction in a heart-stopping scene of extraordinary power. An arresting blend of high comedy and great tragedy, this is a story about searching for people and places that no longer exist, for the hidden truths that haunt every family, and for the delicate but necessary tales that link past and future. Exuberant and wise, hysterically funny and deeply moving, EVERYTHING IS ILLUMINATED is an astonishing debut.
Jonathan Safran Foer is a name that has been on my to reads shelf since I joined Goodreads. I had heard such good things about this book and Extremely Loud and Incredibly Close but they were always just general good things. I never really knew why they were so good, just that I had to read them.
On my biannual trip to Half-Price books, I really wanted to get this book and finally get around to reading it. Well, toward the end of last year I finally started it. And I couldn't put it down.
The way the book is written can at first be really jarring. It alternates between the story of the past the what is going on in the present. Until I really because connected to the characters, it actually was really annoying and I wondered how I would ever get through this book! But that is the thing that this book excels: the characters.
I loved all the characters in the past and all in the present so much so I would always be lamenting them switching each time.
The story has a very unique way of coming across, through letters and the past, and if you are not one for out of the ordinary formats you probably wont like this book. As for me, though I went it blind, I am definitely coming out illuminated.
(Sometimes you just have to end in a pun. Forgive me.)