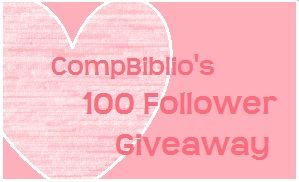 About a week ago, I hosted my first giveaway here at CompBiblio. I didn't realize how much fun it would be! Because of the fun, I knew that one I reached 100 followers, I would have to have an awesome giveaway!
THAT TIME IS NOW!
The Prize:
Since this is a celebration of 100 people (well 102 exactly) want to follow me, the prize is your choice of any of the books I have reviewed on this site! Conveniently,
here is a list!
. The book must be less than $15.
One winner will be chosen!
If for some reason I reach 200 followers (I will be counting through Feedburner, which counts GFC as well as the other followers), I will add another book. The same for every 100 followers.
ETA on 3/1
I guess I dont really know how to count these things, but when I started feedburner was 101, now it 141 is and GFC was 102 and now it is 160. So somewhere in there is +100.
That means two prizes will now be given away!!
I normally don't like making the Raffelcopter's too complicated, because to be quite honest, they are a pain to enter. But this time, I kind of want to promote my blog. So there is one mandatory entry and 4 additional entries. Remember, it only takes one entry to win :)
Note: If I review books between now and the end of the giveaway (if they are confines the rules below), those also count toward books you can choose. I will try to keep the list updated as much as possible.
The Rules:
Because this is a follower giveaway, this is one of the few times that I require the entrants to follow my blog. I have GFC and Feedburner for RFS or Emails. Chose one :)
The contest is international. If The Book Depository ships to you, you are golden. Here is the list of countries they ship too.
The maximum amount of each prize/book must be less than $15.
The contest will run for two weeks, until midnight EST the night of March 3rd.
Winners must respond to notification email within 48 hours of it being sent or new winners will be chosen.
Enter using the raffelcopter below. If there are any questions or concerns, please email me or leave a comment below.
a Rafflecopter giveaway
ETA
If you have issues with Raffelcopter. Here are the options, just comment or email me which ones you did and leave an email address and I'll add it to the Raffelcopter for you. :)
- be a follower. Through GFC or Feedburner rss or email. This one is required so tell me how you follow.
- follow me on twitter @bambbles (tell me your twitter handle)
- tweet about the giveaway (leave a link to the tweet )
- leave a comment on of the book reviews on the website
- leave a comment on the giveaway entry telling me what book you may want. Not a binding choice. :)