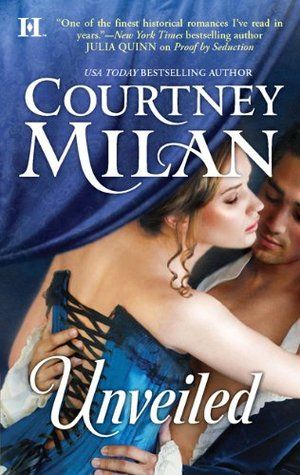 Book Title/Author:
Unveiled
by Courtney Milan
Publisher/Year Published:
Feb 2011 by Harlequin Books
Where I got it:
The library's eBook collection
Rating:
3/5 stars
Challenges:
Reading Romances Challenge -
February Entry
for "embracing couple cover"
Summary:
via Goodreads
Ash Turner has waited a lifetime to seek revenge on the man who ruined his family--and now the time for justice has arrived. At Parford Manor, he intends to take his place as the rightful heir to the dukedom and settle an old score with the current duke once and for all. But instead he finds himself drawn to a tempting beauty who has the power to undo all his dreams of vengeance....

Lady Margaret knows she should despise the man who's stolen her fortune and her father's legacy--the man she's been ordered to spy on in the guise of a nurse. Yet the more she learns about the new duke, the less she can resist his smoldering appeal. Soon Margaret and Ash find themselves torn between old loyalties--and the tantalizing promise of passion....
Margaret is hiding out as a non-convincing nurse while trying to spy on the potential new heir, Ash. Ash knows from the start he is going to hit that. Margaret does a great job of saying "No" and Ash is okay with taking it slow.
The premise is really interesting to me. Brothers bastardized by their fathers deception by the cast-away distant relative. Distant relative and bastardized sister start to fall in love. Sister is torn between loyalties.
While the romance itself was pretty interesting, I really wanted to know how they were going to resolve this issue. So I guess a good plot line too me a little out of the romance.
But Ash and Margaret are very well rounded characters. Each has flaws, but not overwhelmingly so. Each has positives, but they aren't shoved down our throats. I extrememly liked, going back to that plot thing, that the main obstacle was not them falling in love. It was overcoming betrayal.
But, this book is a conundrum to me. I can't find anything about it that I particularly disliked, but I can't find anything about it that sent me over the moon. I think that it is the epitimy of a "just good" book. It wouldn't be the first I'd recommend, but I would recommend it.
It was solidly fine. I am definitely continuing on with this series.