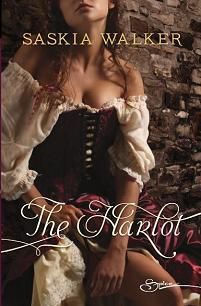 Book Title/Author:
The Harlot
by Saskia Walker
Publisher/Year Published:
May 2011 by Harlequin Spice
Where I got it:
The library as an eBook
Rating:
2/5 stars
Summary:
via Goodreads
It is a Dark Era, one when a lusty lass will do what she must to survive. Even if it means bartering flesh for a palmful of coins…

Forced to watch her mother burned at the stake and separated from her siblings in the aftermath, Jessie Taskill is similarly gifted, ripe with a powerful magic that must stay hidden. Until one night when she's accused by a rival, and Jessie finds herself behind prison walls with a roguish priest unlike any man of the cloth she has known.

In reality, Gregor Ramsay is as far from holy as the devil himself, but his promise of freedom in return for her services may be her salvation. Locked into a dubious agreement, Jessie resents his plan to have her seduce and ruin his lifelong enemy. But toying with Gregor's lust for her is enjoyable, and she agrees to be his pawn while secretly intending to use him just as he is using her.
The Harlot, an erotic romance centered around sex and a revenge scheme, to me was just okay. The first few chapters are rather jarring and you are pretty much thrown into sex. Seriously, one moment you are reading a story about a slightly raucous bar scene and then bare asses are up in the air! I am not jittery about the eroticism of this book (nor bare asses in the air in context I guess ha), but for the first 100 pages or so it was a book of erotic encounters held together with a loose narrative. It wasn't until really half the book was over that we saw any forward plot movement with the revenge thing.
The sex was pretty steamy, and other adjectives for erotic that I can't think of right now. Although from a story telling perspective, some of it was completely unnecessary and somewhat random. I haven't read too many erotic romances, and the ones I have were dismal, so I don't have much to go by if this is the norm or just so for this book.
The story could have been better if the characters were more developed outside of the sex or how the sex affected them. I know this is erotic romance, but I still expect more than what this gave me. It was like they had one other character trait outside of being horny (Jessie: witch; Gregor: revenge-driven).
That said though, it wasn't horrible. It wasn't purple prosey or entirely lacking a plot. And a lot of the sensual scenes made sense in the context of the plot. And you know, I finished the book. That says a lot right there. Toward the end I skimmed a bit, but I honest to goodness finished the book. So many times these days I have been giving myself an out of the DNF for books I just couldn't stand. But I read this one, which means something.
Overall, it was okay. Readable, steamy, but okay.