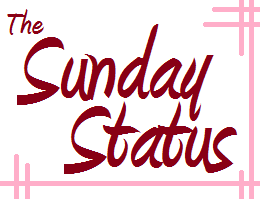 Books I Finished This Past Week
Boo.. the first zero of the year. This week kicked my butt.
Books I am Currently Reading
An Affair with Mr. Kennedy by Jillian Stone
Grimm's Fairytales by The Brothers Grimm
Books To Be Read Next
The Price of Innocence by Susan Sizemore
This One Time With Julia by David Lampson
Last week in reviews
The Harlot by Saskia Walker
Things to look forward to
Top Ten Tuesday
this week is about
Top Ten Favorite Covers
.
I don't know how much fun things we have to look forward to this week. Another hell of a work week will be upon me soon. But we'll see.
Cool Posts from Other Blogs
I've just started stumbling over to
Dear Author
and low and behold I find a super informative post about the latest publisher verses Amazon story. IPG, aka Independent Publishers Guild, is balking at Amazon's contractual changes toward them. While I am no Amazon lover by far and avoid purchasing from them unless necessary, IPGs tactic was to tell readers to fight with their pocketbook.
Jane makes her case for "Why should we? What have you done for us?" brilliantly.
I am enthralled by reading about how publishers react to the digital age of reading and thus loved reading this letter and the comments that followed.
Speaking of fun Dear Author posts,
this one talks about a whole bunch of new fun stuff happening with paypal and censoring reading material
. Another informative read to keep one up on the book world.
Moving on, I wish I could remember how I stumbled on to this, but if you know a guy who you are trying to get turned on to reading
Guys Read
may be just the place to help! Noted as the "place to come if you're looking for something to get a guy reading" this may be the perfect stop for the girlfriend/sister/mother/friend who is looking to get that man in her life into the world of books.
Speaking of getting people into the magical world of books,
Gone Reading
is this awesome new start-up that sells a variety of things tailored to the book-lover. The best part about Gone Reading is that "100% of after-tax profits to provide new funding for libraries". I LOVE libraries and I LOVE reading. This is the perfect site for supporting both. They have some pretty cool merch, I am eyeing the
penguin T-shirt
(yay! pun AND penguins) and the
monkey charm bookmark
. So check it out. If you find something that suits your fancy remember it is going to a good cause.
Finally, despite being solidly out of the country for the weekend it falls on, I've decided to participate in the
Bloggiesta
the last weekend in March. I am most interested in the community aspect of the day which again will be challenging as I will be 9 hrs ahead of the US. And potentially riding a camel.
Still, I am going to make a to-do list and I even signed up to host a mini-challenge. Sounds like a lot for the first timer, eh? But whatever. I shall prevail! And hopefully not fall off that camel...
Also, I may be splitting up this status post and moving the Cool posts and giveaways into its own feature. I'm thinking on it :)
Giveaways from around the net
Winners from my 100 Follower Giveaway will be announced soon!
Giveaway hops going on that I have stumbled into:
Leap Into Books Giveaway Hop
runs until March 5
Lunar Love Giveaway Hop
runs from March 8 to 13th
Let me know any feedback. Also if you have some cool links, comment with them! Until next Sunday, have a great week!