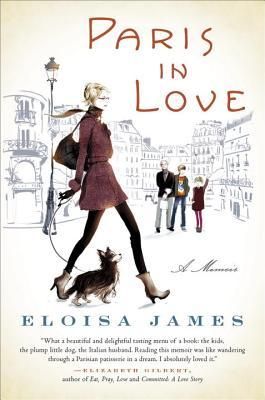 Book Title/Author:
Paris in Love: A Memoir
by Eloisa James
Publisher/Year Published:
April 3rd 2012 by Random House Publishing Group
Where I got it:
The library
Rating:
4/5 stars
Summary:
via Goodreads
In 2009, New York Times bestselling author Eloisa James took a leap that many people dream about: she sold her house, took a sabbatical from her job as a Shakespeare professor, and moved her family to Paris. Paris in Love: A Memoir chronicles her joyful year in one of the most beautiful cities in the world.

With no classes to teach, no committee meetings to attend, no lawn to mow or cars to park, Eloisa revels in the ordinary pleasures of life—discovering corner museums that tourists overlook, chronicling Frenchwomen's sartorial triumphs, walking from one end of Paris to another. She copes with her Italian husband's notions of quality time; her two hilarious children, ages eleven and fifteen, as they navigate schools—not to mention puberty—in a foreign language; and her mother-in-law Marina's raised eyebrow in the kitchen (even as Marina overfeeds Milo, the family dog).

Paris in Love invites the reader into the life of a most enchanting family, framed by la ville de l'amour.
Every once in a while, I am up for a good memoir. I think memoirs are my favorite form of non-fiction. When I heard that one of my favorite romance novel authors was publishing one, I immediately added it to my to be read shelf. The funny thing was, I had already had a secret inside look into this book and didn't even know it.
Let's backup. A few years ago when authors starting Facebook and Twitter accounts became the thing to do, I started following Elosia James. Little did I know I stumbled into the most eloquent and beautiful status updates ever. Eloisa and family were living in Paris at the time, and she would frequently post snippets of life while she was there. These would range from the sound and sights of the city to (my favorite) exploits of her then 10-year old daughter. Scrolling through the news feed, I would always stop and read those.
For Paris in Love, Eloisa took that same format of short paragraph like status and collected them seemingly chronologically to tell the story of her year abroad. Some I remember reading real time, but a lot she took an expanded on (including some very good longer essays) and she included some more personal introspection.
The result is a wonderful journey through her and her family's year in Paris that takes you out of whatever location you are and sets you down in Paris.
I love the things she describes to, the way the horses on the carousel look, the windows in the subway, the laughing statues on the bridge. But what really drives this home for me is the family stories. Again the worse paint a picture for you that made me just cringe or laugh or insert appropriate emotion while reading it. I am pretty sure I even face-palmed while chuckling at the thought of 10-year-old Italian students trying to do a play in French that no one understood with all the calamity that you would think would happen, does.
Despite the short format, there are some cohesive threads that travel through the book which make you want to keep reading. At the same time it was easy for me to find a "stopping point" (in quotes because, really, is there ever such a thing as a stopping point in a book?? Maybe the words 'the end'). It made it really convenient to shove in my purse and open at random times.
Overall, the book was a light-hearted read that was at times touchingly poignant. I feel like I would read anything that Eloisa wrote, even if it was a limerick on a bar napkin. If you enjoy memoirs with a splash of French travel and family shenanigans (oh! and a rotund dog) definitely check this one out. Who could say no to rotund dogs?