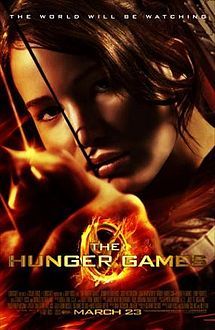 Over a year ago, I decided a do a feature I called "Book vs Movie" for the book
Perfume: The Story of a Murderer.
Well, I've decided to bring it back. I've been meaning to, and in fact, The Help has been just waiting to be written for a while now.
Anyway, let's talk about The Hunger Games. First some some snippets from
my longer review of The Hunger Games.
This book was a very pleasant surprise. ... It brings up a lot of interesting problems with the general human condition, including what problems could occur in this society not completely removed from our own. ...

I can't imagine how I would be at 16, still not an adult but you think you are, in a world where you are forced to hunt for your family's survival and then get thrown into the hunger games where you have to kill to survive.

The plot just grips me. See how these characters interact and react to and with each other is what keeps me reading.
Two years after reading the book, the movie came out. I didn't follow the filming of it too much besides to think "The girl who is going to play Katniss was nominated for an Oscar? I approve" and "Lenny Kravitz?! I want to get awaaaay." But after seeing the movie, I was extremely pleased with their casting.
The cast were the heart and soul of this movie and I believe what they gave to their performance is one of the main reasons that Hunger Games, last I heard, was still topping the charts. Katniss was outstanding. For the first time ever, the character in my head came alive on the screen through Jennifer Lawrence's performance. The boys were great, the other tributes were great, and holy crap Haymich was amazing.
I thought this was an excellent adaptation. It changed things that would make sense in the limited time visual medium, while keeping the heart of the book. They also added some things that were obvious set ups for the next two movies.
There isn't really any one thing that I could point out that I didn't like in the movie. I really, really enjoyed it. Does the movie beat the book? Absolutely not. The book is one of the few five stars I have given. The movie was great and I would absolutely see it again, but the book was better.
What did you think?