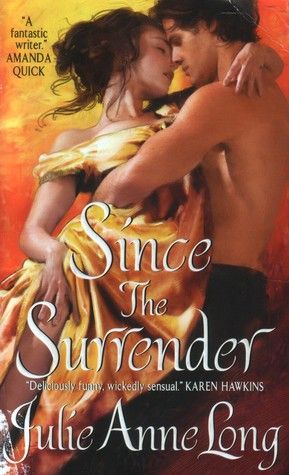 Book Title/Author:
Since the Surrender
by Julie Anne Long
Publisher/Year Published:
2009 by Avon
Where I got it:
The library
Rating:
2/5 stars
Summary:
via Goodreads
Fearless. Loyal. Brilliant. Ruthless. Bold words are always used to describe English war hero Captain Chase Eversea, but another word unfortunately plays a role in every Eversea's destiny: trouble. And trouble for Chase arrives in the form of a mysterious message summoning him to a London rendezvous . . . where he encounters the memory of his most wicked indiscretion in the flesh: Rosalind March—the only woman he could never forget.

Five years ago, the reckless, charming beauty craved the formidable Captain's attention. But now Rosalind is a coolly self-possessed woman, and desire is the last thing on her mind: her sister has mysteriously disappeared and she needs Chase's help to find her. But as their search through London's darkest corners re-ignites long-smoldering passion and memories of old battles, Chase and Rosalind are challenged to surrender: to the depths of a wicked desire, and to the possibility of love.
I think I graded this one so harshly because I loved the one before it so much. Like No Other Lover if you are interested :)
Warning
I kind of go off below, regardless of keeping specific things vague. They are minor spoilers, I guess. I felt like I had to put a warning up. If you don't want the specifics, the bold text could be considered the spark notes :)
Why this book is two stars:
-
The Plot was boring for the first 100 pages.
Seriously I don't know how I even stayed awake during those pages. The hero and heroine rarely interacted and there was all these choppy flashbacks. When the plot did finally show up, it made it readable, but it still was kind of a "wtf is going on" story.
-
Random sexy times.
They had sex at such RANDOM times. Like in the middle of searching for the kidnapped sister. No, it's not like time is of the essence or anything.
-
The guilt of the hero/heroine
So part of the back-story is they met when she was married to his compatriot in the war. Now I was thinking this whole time they had the sexy times in the past and got caught and their guilt was what kept them apart. When I found out it was just one, steamy kiss I raised a brow. Now that her husband's dead, guilt from one kiss is keeping you apart? She kept thinking (in her monologues) "I ruined his life/career. He will never forgive me" He was transferred and it ended up saving his life and he was considered a war hero (we're told). I don't think you ruined anything.
-
The chemistry between the hero/heroine
This is why it is not one star. I thought they had some good sparks flying between them. They were just misplaced in this weird "mystery" plot. I feel like if the plot were different, these two could have flourished as I liked them each as characters (outside of the guilt thing...)
Not my favorite.