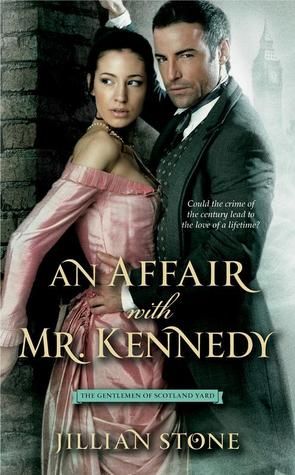 Book Title/Author:
An Affair with Mr. Kennedy by Jillian Stone
Publisher/Year Published:
January 2012 by Pocket Books
Where I got it:
The library
Rating:
3/5 stars
Summary:
Via Goodreads
London, 1887. Part stoic gentleman, part fearless Scotland Yard man, Zeno "Zak" Kennedy is an enigma of the first order. For years, the memory of a deadly bombing at King's Cross has haunted the brilliant Scotland Yard detective. His investigation has zeroed in on a ring of aristocratic rebels whose bloody campaign for Irish revolution is terrorizing the city. When he discovers one of the treacherous lords is acquainted with his free-spirited new tenant, Cassandra St. Cloud, his inquiry pulled him unexpectedly close to the hear of the conspiracy -- and into the arms of a most intriguing lady.

Cassie is no Victorian prude. An impressionist painter with very modern ideas about life and love, she is eager for a romantic escapade that is daring and discreet. She sets her sights on her dour but handsome landlord, but after she learns their meeting was not purely accidental, she hardly has a chance to forgive her lover before their passionate affair catapults them both into a perilous adventure.
This was definitely one of the more unique historical romances out there. I can see why RWA gave her an award. Let's break it down, shall we?
The Story:
The story is gripping. It takes you on a journey with Scotland Yard and its heroes, especially Zeno aka Zak. There is a plot afoot and Cassie seems to be unwittingly caught in the middle. Zak makes it his responsibility to protect her, and well, things happen along the way. The story bounces back between their love and the nefarious schemes of The Bloody Four. It is rather unique in that there is an actual mystery like plot with Scotland Yard, and their romance pretty much solidifies about halfway through the book.
You can tell all the research that went into this novel, too. She really makes it known that this is the turn of the century (almost) Victorian England, and it doesn't do the novel disservice. Although through the first chapter, I wrote down all of the references I didn't get or the inventions I wasn't sure existed. After losing hours to Wikipedia, she was right on them all, and I learned the history of vibrators.
The Characters:
First we shall look at the leads.
Cassie was a contradiction. Well maybe not a contradiction but built a contradiction in me. She is the daughter of a suffragist who rides bikes in breeches. All well and good and pretty awesome. Side note: I've ridden a bike in a skirt and do NOT recommend it). She is also an artist. Super likable, yeah? But then she goes and does stupid things like refusing a guard when she knows this not nice man from her past is tailing her and wants her kidnapped. "No I am good with one guard." Seriously?! I don't care how "feminist" you are, it seemed stupid to me and I just couldn't forgive her for the needless danger she kept getting into because of it.
Zak was less of a struggle to like. He was pretty consistent. I got a little tired of the hero gig that he kept playing over and over again. But I guess it comes with his job? I mean he must be super good at it.
All of these complaints make it sound like I hated Zak and Cassie, but I didn't. Not really. They were pleasant for the most part, these were just my qualms.
I did extremely love the side characters and can't wait for them to have books of their own.
The Romance:
The romance took a bit of a backseat to some of the story, but it wasn't too bad. The first half was brilliant in the romance aspect. After they hooked up the first time it was more.... leisurely. And you know that isn't really a bad thing. I would have liked to see more romance outside of the sexy times, but you know this isn't really a negative. It made the story and characters seem more like characters in the real world as opposed to Romancelandia.
The Execution:
Remember how I mentioned the bouncing between romance and mystery? Well, it does this rather smoothly for most of the novel, but the end seemed to drag. To be honest, I wish this would have ended scenes earlier. Like about 50 pages. The ending seemed a little anticlimacitc.
The Overview:
Overall, I liked it. It was refreshing to read a non-regency, a non-ton (for the most part) story about a man making his living in the world. A super interesting living with crime solving and bombs. I am really looking forward to reading more from Ms. Stone, especially more of the Scotland Yard books.
3/5