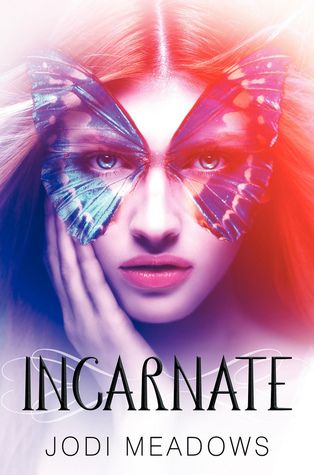 Book Title/Author:
Incarnate by Jodi Meadows
Publisher/Year Published:
January 2012 by Katherine Tegen Books
Where I got it:
The library
Rating:
3/5 stars
Summary:
via Goodreads
Ana is new. For thousands of years in Range, a million souls have been reincarnated over and over, keeping their memories and experiences from previous lifetimes. When Ana was born, another soul vanished, and no one knows why.

Even Ana's own mother thinks she's a nosoul, an omen of worse things to come, and has kept her away from society. To escape her seclusion and learn whether she'll be reincarnated, Ana travels to the city of Heart, but its citizens are afraid of what her presence means. When dragons and sylph attack the city, is Ana to blame?

Sam believes Ana's new soul is good and worthwhile. When he stands up for her, their relationship blooms. But can he love someone who may live only once, and will Ana's enemies—human and creature alike—let them be together? Ana needs to uncover the mistake that gave her someone else's life, but will her quest threaten the peace of Heart and destroy the promise of reincarnation for all?
I read this book in about 4 hrs on a trans-continental(ish) flight. So it was engaging. I will say that about it. But something just makes me go, "Hmm".
After more pondering, I think I liked it mostly for the romance aspect, which was fine. Not great, but definitely not bad, better than some other YA books I've read recently. Actually, before I complain more, let me first laud this book with multiple praises for NOT having a love triangle. Praise the YA book Gods!
But if I took out the romance, it was meh. I needed less romance and more world-building. I feel like I still don't understand the rules of this world. Can you hold a philosophical conversation with a baby? How does the money work? Why is the temple so weird? How do you get your name? If Ana is reincarnated male will she always be Ana? (Unfortunate)
And to get really vague to avoid spoilers, I really dont understand the ending and all the science behind the twist.
Let's look at the characters. Ana didn't bother me too too much. I forgave a lot because she was emotionally abused her whole life. Obviously she is not going to be a beacon of sunshine and normality.
Sam was nice but at the same time not. I didn't like some of the things he hid from Ana. He is curious and a kind person especially for accepting Ana into his home, but outside of initial physical attraction between them, what draws him to her? Why her and not any other of the souls? Is it her ability to pick up music? I don't know, and I think I should.
However, if you wade through all the moaning I just did, I did enjoy it. The romance was done well enough, and the story was fine. There are things that could have been better, but by virtue of the fact that this is a YA without a love triangle, it in the pro column of my book.
I'm totally going to keep reading this series.