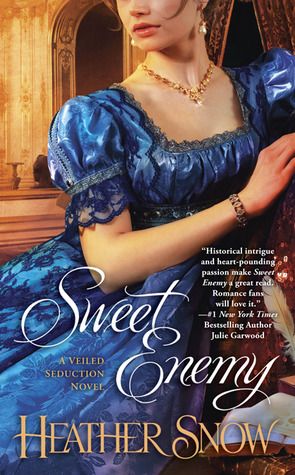 Book Title/Author:
Sweet Enemy by Heather Snow
Publisher/Year Published:
February 2012 by Signet
Where I got it:
I won a contest on Heather Snow's Facebook page :)
Rating:
3/5 stars
Series:
Veiled Seduction #1
Summary:
via Goodreads
Geoffrey Wentworth, a war hero and rising political star, never wanted to be the Earl, but when his brother dies, he knows his duty—take up the responsibility for his family's estates. His mother's definition of duty differs from his, however, and can be summed up in one word-heirs. When Geoffrey rushes home to answer her urgent summons, he finds himself host to a house full of women, all vying to become the next Countess of Stratford. But his love is Parliament, where he wields his influence and reputation to better the lives of ex-soldiers, until a tempting houseguest and a secret from his past threaten his freedom...and his heart.

Liliana Claremont, a brilliant chemist, doesn't want to be any man's wife, much less a Countess. If she had tuppence for every time she'd been told her place was filling the nursery, not experimenting in the laboratory, she could buy the Tower Bridge. However, when she receives a coveted invitation to the Earl's house party, she trades in her beakers for ball gowns and gladly takes on the guise of husband hunter—for the chance to uncover what the Earl had to do with the murder of her father.

Liliana believes the best way to get the answers she needs is to keep her enemy close, though romance is not part of her formula. But it only takes one kiss to start a reaction she can't control...
Heather Snow's debut novel,
Sweet Enemy
, gives us a new take on the house party in historical romance. Liliana is a chemist on a quest to avenge her father. Geoffrey is a second son soldier thrust into the role of an earl, and surprising himself, he is doing quite well at it. Only one thing, he has no wife and thus no heirs. Hence his mother tricks him into a house party with many eligible young ladies, and of course, one ineligible. Let's take a look at the SCORE.
The Story
The story was probably my favorite part of this whole book. The plot was super engaging and not something that I have seen in many romances. Liliana goes to this house party just so she can search the house for more clues regarding her father's young demise. Inadvertently Lilian catches the attention of Lord Stratford thus allaying her plans to continually slip away and search the house.
The house party itself had some pretty unique elements to it, but it really is just the backdrop to the main story of the investigation. Though I will say, there was one part of the story where the house party and the romance completely overshadowed that main motivation and plot line almost to the story's detriment.
The Characters
Liliana is a nontraditional heroine who likes to defy social convention and be in a man's world. I couldn't help but think when writing that sentence that she is a non-traditional for the time heroine but not for historical romance. Anyway, it's a motivation of "Why won't anyone believe she knows anything about chemistry?" She was well developed, though I can't say I connected with her character too much. At times she just seemed genuinely annoying and obstinate. But overall I could deal.
Stratford and I actually had a connection because of his war wound. I don't have a war wound, but I do have that constant pain. I was a little bereft that something that bothered him so much in the earlier part of the book was nary mentioned a bit after he used her magic poultice. Can I have some, please?
But I digress. I liked him. I liked his character. I thought that he had his heart in the right place, and wasn't dull. I mean, is he one of my favorite heroes? No, but he is not one of my least. I just plain and simply liked him.
This is a series so we met the hero of the next book, potentially heroes if my guesses are right. He wasn't overly developed besides being "The nice guy" and one other detail I will not give away. Overall the secondaries were not remarkable, but not one note either.
The Romance
I felt the heat. I loved the romance in this. It was fun and at the same time heartrending. The misunderstanding at the end or the big reveal or whatever you want to call the trope was believable and each character acted well within in their characterization.
Also the sexy-times were quite ... enjoyable :)
The Execution
Here is where I start to get a little more critical. While as I said before I thought the story was good, I thought the execution of said story was quite clunky. The biggest problem I had was there were paragraphs that were filled with too much information. It was to the point where it drew me out of the story. I know the main characters had backstories, but I feel like there is a better way to work in the information that is needed to make a character well-rounded without info dumping tons of information. It was more noticeable in the beginning before I was engrossed in the actual story, but even later on I had a few eye-raising moments.
Also there was the thing that I mentioned with the leg earlier. I guess it all ties in to the to much information thing. I think that this book needed a bit more focus.
The Overview
So overall, I liked this book. Though there were some issues, I think that as the author develops her voice and style, these will go away. The story was great and from what I read of the next one I am definitely going to check it out. If you are looking for a new voice to read, check this one out.