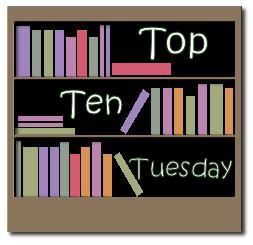 Top Ten Tuesday is an original feature/weekly meme created at
The Broke and the Bookish:
Each week we will post a new Top Ten list complete with one of our bloggers answers. Everyone is welcome to join. All we ask is that you link back to The Broke and the Bookish on your own Top Ten Tuesday post AND post a comment on our post with a link to your Top Ten Tuesday post to share with us and all those who are participating. If you don't have a blog, just post your answers as a comment.
This week's Top Ten list is:
Top Ten Books I'd Want On A Desert Island!
This is particularly hard for me. I enjoy books as I read them. Then I move on. It depends on my mood too. Oh, well. At least I'll give it the good ol' college try. Can't fail a challenge now can I?
Let's set the scene. My plane crashed, I survived. I'm on an island. My nook is shot with the water. But BEHOLD! A trunk washes ashore. Inside I find these ten books.
1. The Harry Potter Boxset - JK Rowling
I don't even care if this is a 7 book group cop out. But I think I could read Harry over and and over and love it every time. It's such a fun read, even in its darker moments. But if I had to chose one, I'd pick Prisoner of Azkaban because I love that one to death!
2. The Worst Case Scenario Almanac - David Borgenicht
Dude. I am on an deserted island. I'm going to need help no matter how tongue in cheek it is.
3. The Illiad and the Oddessy by Homer
In ancient Greek with English. I know it exists, I've seen it. I can't find it now, but I know that this would pass the time. Love this epic tale of epicness
4. The Lord of the Rings by JRR Tolkein
I can see myself even getting through the endless walking through rocks scenes.
5. The Time Traveler's Wife
Audrey Niffenegger
I just really liked this book. Every time I read it, it elicits new emotions for me.
6. Angels and Demons by Dan Brown
I read this before he got hyped up, and I went to Rome to see all the sites in the book, and now it will always hold a special place in my heart.
7. Shanna by Kathleen E. Woodiwiss
My first favorite romance novel. It;s long and adventuresome so I am sure I will not get bored. And I need a little happy romance on this list.
8. Paradise Lost by John Milton
Because with all this free time maybe I'll be focused enough to get through it. I really want to read it.
9. A Duke of Her Own by Eloisa James
I need another romance novel, and I loved this one. Being at the end of the series I would hope that it would remind me of how much I loved the rest of the series. NO NO! I changed my mind
9. (revised) When the Duke Returns by Eloisa James
I have no real reason but that its in the middle so I will be able to remember more characters haha
10. "Physician's Desk Reference...
...hollowed out, inside: waterproof matches, iodine tablets, beet seeds, protein bars, NASA blanket and, in case I get bored, Harry Potter and the Sorcerer's Stone. No, Harry Potter and the Prisoner of Azkaban. Question: did my shoes come off in the plane crash? "
I can't think of a ten. I just don't love books that much to want to read them over and over for the rest of forever. So I'd make number 10 a ridiculously large blank journal, I think in this situation I'd rather write.
So I guess I failed at this. NO!!! GOT IT!
10. Mockingjay - Suzanne Collins
Because I'd want to see how this series ends!
FIN!