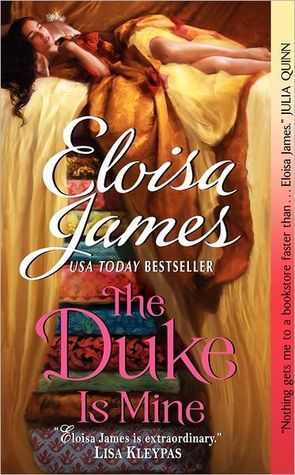 Book Title/Author:
The Duke is Mine
by Eloisa James
Publisher/Year Published:
Avon December 2011
Where I got it:
The library
Rating:
3/5 stars
Summary:
via Goodreads
He is a duke in search of a perfect bride. She is a lady—but a long way from perfect.

Tarquin, the powerful Duke of Sconce, knows perfectly well that the decorous and fashionably slender Georgiana Lytton will make him a proper duchess. So why can't he stop thinking about her twin sister, the curvy, headstrong, and altogether unconventional Olivia? Not only is Olivia betrothed to another man, but their improper, albeit intoxicating, flirtation makes her unsuitability all the more clear.

Determined to make a perfect match, he methodically cuts Olivia from his thoughts, allowing logic and duty to triumph over passion…Until, in his darkest hour, Tarquin begins to question whether perfection has anything to do with love.

To win Olivia's hand he would have to give up all the beliefs he holds most dear, and surrender heart, body and soul…

Unless it's already too late

This sexy, witty version of The Princess and the Pea turns the classic fairy tale into an enticing, funny, and moving romance
This book has elements of good, elements of bad, and elements that could go either way. Let's look at them individually.
The Good

James writes great characters. The leads were done well. I loved the wordplay going back and forth between well everyone (I am a sucker for a good pun). The secondary characters were memorable as well. They were all strong, fun, dimentional especially Quin and Olivia.
The Bad

The ending was just so random. Almost anti-climactic. All of a sudden I felt like I was reading a different story, not the one that has started. It just seemed to drag on for dragging on sake at that point. Or maybe to fit in something more that could tie it to the Princess and the Pea? I am not sure because I haven't heard that tale in quite a while.
Also I didnt notice the Justin Bieber reference until I read the authors notes. I am glad I didnt...
The Could Go Either Way

I want to say something about Rupert but I am having trouble finding what. He is a secondary character not all there mentally and expresses his emotions openly much to the display of the
ton
(we are told this early on). There is an early scene that I thought worked okay that some people may not like. I dont want to give to much away but it involves Olivia and Rupert. I dont think that it was disgusting, but I could see how someone may take it that way. I thought it was funnily written and sweet how it ended and I hurt for them both in that scene).
I think Olivia and Rupert have a relationship that is respectful (though it may not start out that way), and do not think the book should be disregarded because of it. Just my opinion and it may not be yours so take that in to concideration when deciding if you want to read this book.
Like I said, I am not sure how much it relates to its inspiration, since I dont know if I have really ever read the tale.
Overall, I would recommend it but maybe not to new James readers. If you are that, check out When Beauty Tamed the Beast. That book was awesome!
It's fun and I think it is suppose to be. The ending seems a little, out of place and there are places I think the story could have gone that could have been really interesting especially having to do with the two sisters, one duke. Regardless though, I would still recommend it, especially if you are a James fan already.