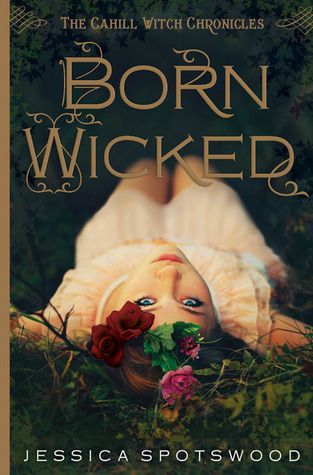 Book Title/Author:
Born Wicked
by Jessica Spotswood
Publisher/Year Published:
February 2012 by Putnam Juvenile
Where I got it:
The library
Rating:
3/5 stars
Summary:
via Goodreads
Everybody knows Cate Cahill and her sisters are eccentric. Too pretty, too reclusive, and far too educated for their own good. But the truth is even worse: they're witches. And if their secret is discovered by the priests of the Brotherhood, it would mean an asylum, a prison ship--or an early grave.

Before her mother died, Cate promised to protect her sisters. But with six months to choose between marriage and the Sisterhood, she might not be able to keep her word... especially after she finds her mother's diary, uncovering a secret that could spell her family's destruction. Desperate to find alternatives to their fate, Cate stars scouring banned books and questioning rebellious new friends, all while juggling tea parties, shocking marriage proposals, and a forbidden romance with the completely unsuitable Finn Belastra.

If what her mother wrote is true, the Cahill girls aren't safe. Not from the Brotherhood, the Sisterhood -- not even from each other.
Born Wicked is a alternate history dystopian. It's weird to say that, but it is true. Though it is a fresh spin, it does fall into some of the same YA patterns we have been seeing: the love triangle,
which we all know I love
, and a supernatural element, she and her sisters are witches.
Cate and her sisters are trying to hide from the world and the anti-witch ruling Brotherhood. But Cate soon has to chose her path, become a wife or enter the Sisterhood, by her 17th birthday. Her childhood friend comes back home to court her, but then there is also Finn, the gardener.
All the while she is trying to figure out what her mother, who died a few years prior, would have her do. Then there is the whole witches thing.
I read it really quickly. It kept my interest, but looking back the plot in the middle was a little repetitive. I can't even really think of solid plot points that mattered that happened in the middle. But the pages still turned. The ending however was so rushed and confusing that I am still not sure what happened and why decisions were made. And of course it ends on my second "favorite" thing. A cliffhanger.
That said, I was entertained. Cate, though frustrating with some of her choices, was a solid lead. Her first person POV did not annoy me all that much. I understood her motivation most of the time, but it seemed a little misplaced. I wish we knew a little more about Tess and Maura though, the other two sisters.
As for the love triangle, Paul, the old friend, was more a plot devise then a character, but Finn and Cate were seriously awesome together. They were my favorite part of the story. If this story were just about them I'd be ecstatic.
So I enjoyed it. A Fast read. If you like YA and the tropes but want a historical twist, this is your book.
For the entertainment value, I will be continuing the series when they come out :)