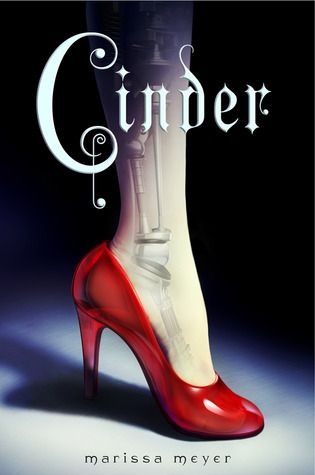 Book Title/Author:
Cinder by Marissa Meyer
Publisher/Year Published:
January 2012 by Feiwel & Friends
Where I got it:
The library
Why I read this book:
Short answer: The cover
Rating:
4/5
Cross posted at The Broke and the Bookish
Humans and androids crowd the raucous streets of New Beijing. A deadly plague ravages the population. From space, a ruthless lunar people watch, waiting to make their move. No one knows that Earth's fate hinges on one girl. . . .

Cinder, a gifted mechanic, is a cyborg. She's a second-class citizen with a mysterious past, reviled by her stepmother and blamed for her stepsister's illness. But when her life becomes intertwined with the handsome Prince Kai's, she suddenly finds herself at the center of an intergalactic struggle, and a forbidden attraction. Caught between duty and freedom, loyalty and betrayal, she must uncover secrets about her past in order to protect her world's future.
This summary sounds amazing right?! And the book totally lived up to the it. So let me just dive in.
Humans and Androids? Already seems intriguing, right? Yes. We'd be correct. The intermingling of humans, machines, and human machines is awesome and unique. The machines are incorporated into the culture, just like watching an updated Jetsons. The futuristic bit of this book is quite well done!
This is set in the East, specifically New Beijing. I LOVE Asian-esque books. Sadly this isn't maximized to it's full possibilities, but the mentions of the culture are there if you look. The people use chopsticks, the celebrations are decorated in red and gold, things like that. But outside of the Chinese honorifics and these side things, it could very well be set in America.
Let's look at the gifted mechanic cyborg, Cinder. I love that she is, for lack of a better term, useful. She takes control of her own destiny despite obstacles thrown in her path. She is a strong lead and the highlight of the story by far.
Mentioned in the summary is the step-sister's illness. This is clear distinction that while it is a Cinderella retelling, Meyer also makes it her own. And it really succeeds at this. Meyer takes a fairy tale that we know from either the original story (or the Disney movie) and seamlessly interweaves the plot points into an awesome retelling.
How could I not mention Intergalactic struggle? Space?! LUNAR PEOPLE! Well, yeah. There is an evil moon people and an interesting story-line surrounding that. The post-apocalyptic atmospheric and this story line make it a wonderful SciFi dystopian.
Let's not forget the forbidden attraction. Yay, a love story! Yay,
not a love triangle!
I love myself some forbidden attraction. And it is done decently well.
Outside of all of that, the story was very fulfilling. A little more world building would have been cool, but there are three other books in the series. Kai's character is starting off okay, but I look forward to reading more about him and watching him develop further. Cinder however is awesome now and probably one of my favorite heroines that I have read in a while. The twist, if that is what is was suppose to be, is really predictable as is the story if you are at all familiar with Cinderella, but I don't think that is a bad thing.
It is a wonderful start to a new series that I know I will be devouring as they come out! If you like fairy tales, dystopians, scifi or YA, check this out!
And I still really like that cover!