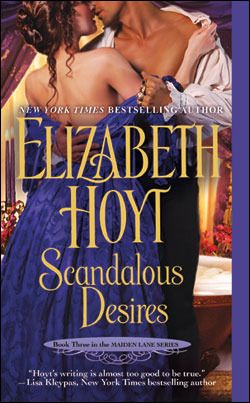 Book Title/Author:
Scandalous Desires
by Elizabeth Hoyt
Publisher/Year Published:
November 2011 by Grand Central Publishing
Where I got it:
The library
Rating:
4/5 stars
Summary:
via Goodreads
Widowed Silence Hollingbrook is impoverished, lovely, and kind—and nine months ago she made a horrible mistake. She went to a river pirate for help in saving her husband and in the process made a bargain that cost her her marriage. That night wounded her so terribly that she hides in the foundling home she helps run with her brother. Except now that same river pirate is back...and he's asking for her help.

"Charming" Mickey O'Connor is the most ruthless river pirate in London. Devastatingly handsome and fearsomely intelligent, he clawed his way up through London's criminal underworld. Mickey has no use for tender emotions like compassion and love, and he sees people as pawns to be manipulated. And yet he's never been able to forget the naive captain's wife who came to him for help and spent one memorable night in his bed...talking.

When his bastard baby girl was dumped in his lap—her mother having died—Mickey couldn't resist the Machiavellian urge to leave the baby on Silence's doorstep. The baby would be hidden from his enemies and he'd also bind Silence to him by her love for his daughter.
I think this is a turning point book in the series. Both of the other two have been building up to this book. And it was worth the build.
Readers of the Maiden Lane series go into this book with a past that we have seen unfold before us in the previous books. This is not the first time Mickey and Silence have met. This is not the first time we have met Mickey or Silence. And we don't take any time to recap it too much. You probably would get enough information if you were jumping into this series in this book, but I know what they told me would leave me wanting to read the first two (which we also very good.
Here my review of the first book
).
This book was well written, well paced and had some steamy sex scenes. And man those scenes. I think Ms. Hoyt has some of the most intimate and erotic scenes in historical fiction.
The characters are so three dimensional, even the secondary ones I could picture well enough in my head. Mickey and Silence were just amazing. They played off each other really well. I love the Pirate and the Puritan thing they have going between them. Though Silence isn't meek... so I am not sure how much puritan she embodies.
I wont say that I didn't see the big series twist coming, but most of the plot twists left me saying "What? This is happening? But how will we move forward with their lurve... let's read on!"
It did however start off a little too Disney's Beauty and the Beast for me. There was even a point where Charming Mickey says something along the lines of "If she doesn't eat with me, then she doesn't eat at all." My head immediately went to "Well go head and staaaaarrrrve" (me paraphrasing the Beast here.) But this wont damper the experience.
I love this series and if you get anything out of this review, pick this up. Like romance? Sick of the Regencies? In for a Victorian set in the slums of London? Yes, please.