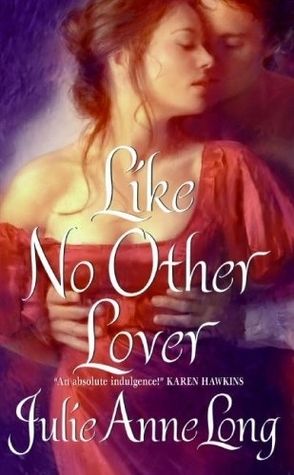 Book Title/Author:
Like No Other Lover
by Julie Anne Long
Publisher/Year Published:
October 2008 by Avon
Where I got it:
The library
Rating:
4/5 stars
Challenges:
Reading Romances April Challenge: Borrowed Books
Summary:
via Goodreads
It's the last chance for Cynthia Brightly, the ton's most bewitching belle. Driven out of London by a secret scandal, she must find a grand husband at the Redmonds' house party before word of her downfall spreads all over England. Unfortunately, someone at Pennyroyal Green is already privy to the whispers of broken engagements and dueling lovers: Miles Redmond, renowned explorer and—thanks to his brother's disappearance—heir to the family's enormous fortune.

Miles set his sights on Cynthia once, at a time when the ambitious beauty thought herself too good for a second son. But now he's heir apparent, relishing his control. He strikes a bargain with her: he'll keep Cynthia's steamy secrets and help her find a husband among the guests—in exchange for a single kiss.

What could be the harm in a simple kiss? Cynthia is about to discover that it's enough to unleash fierce passion—and that Miles Redmond is most certainly like no other lover in the world.
It's time to review another romance novel! This one is the second in the Pennyroyal Green series, the first of which was
The Perils of Pleasure
, which I liked well enough. This one however was quite good.
Like No Other Lover reminded me of the early Bridgerton novels by Julia Quinn: sweet scenes, hilarious scenes, and great characters. The plot, let's be honest here, is one that has been done before. Impoverished beauty needs to find a husband so she doesn't end up on the streets, thus she has to do it quickly. Enter house-party romance time.
Miles' family through the house party and she shows up. He of course knows (somewhat) of her plight and tries to help her find a man, all the while falling for her himself.
So let's clearly the plot is not what sets this book apart. It's the characters. I loved the leads. I thought they had the best chemistry I've read in a while. While both are mainly a romance novel stereotype, Miles the studious man in the glasses who people overlook and Cynthia the impoverished beauty, they have enough depth and dimension that this doesn't define them.
And not only the leads are well rounded, the secondary characters carry themselves as well. I hope we see more of those guys pop up in later books (there are six so far I believe). Without these characters, this novel really would have fallen flat.
This is a good stand alone, as well. One thing I have seen about this series is you really don't have to read it in any order (unless you are anal like me and HAVE to). This would be a good book for someone looking to read a "desperate times call for desperate measures" house party story.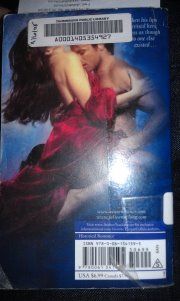 As I mentioned earlier, some scenes really reminded me of Julia Quinn in their hilarity. The drinking game is one that stands out for me. There were quite a few times that I would laugh out loud in a crowded airplane. And to make people look at me like I am that crazy person, clearly this must have been good.
There was one thing that I couldn't get over though, and this has no fault with the actual story. The covers, particularly the back cover, is holy cow embarrassing. Remember how I said I was reading this on an airplane, well I didn't realize the horrid nature of the back cover until I saw down in the boarding area.
Here it is. The flash location is a happy coincidence.
So overall summary: Great book, wonderful characters, good chemistry, get it as an eBook :)