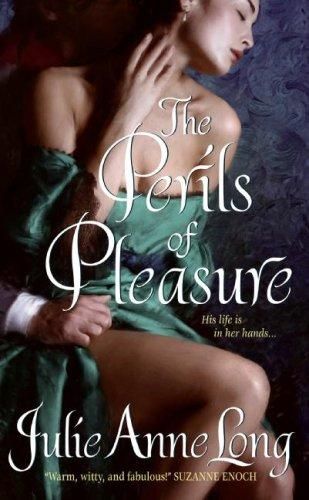 Book Title/Author:
The Perils of Pleasure
by Julie Anne Long
Publisher/Year Published:
January 2008 by Avon Books
Where I got it:
an eBook from the library
Rating:
3/5 stars
Challenges:
February entry in my
To Be Read Pile Challenge
Summary:
via Goodreads
Scandal has rocked the city of London. Colin Eversea, a handsome, reckless unapologetic rogue is sentenced to hang for murder and, inconveniently for him, the only witness to the crime disappears. Then again, throughout history, the Everseas have always managed to cheat fate in style: Colin is snatched from the gallows by a beautiful, clever mercenary.

Cool-headed, daring Madeleine Greenway is immune to Colin's vaunted charm. Her mission is not to rescue Colin but to kidnap him, and to be paid handsomely for it. But when it becomes clear that whoever wants Colin alive wants Madeline dead, the two become uneasy allies in a deadly race for truth. Together, they'll face great danger--and a passion neither can resist.
Historically, the thing about me and historical romances* is that I find an author I love and read the crap out of all the books I can find by them until I can find no more. More recently though, meaning the past few years, though I read the new books put out by my favorite authors, I find my self branching out and trying different things.
I've been wanting to read Julie Anne Long for a while. I don't know why I didn't; it just never panned out. I think the catalysis was buying one of her books from the Border's sales, but it was the 5th in the series.
One thing to know about me. I
cannot
stand being "spoiled" for a book (or movie or TV show). If it is a series, I must read it in order.
So now that I had this book with the inciting cover and rave reviews in my possession, I couldn't do anything with it until I read the 4 previous books.
This is where we start our review.
The Perils of Pleasure
is the first book in Long's Pennyroyal Green series. The series definitely starts off on a high note with Colin, the literally almost hung innocent murderer, and Madeline, the woman hired to save him.
I can't say that I have ever read a historical romance novel where the hero and heroine are pretty much on the run the entire novel. Yay! Unique plots! After the explosive beginning with the almost-hanging, they spend the rest of the novel trying to uncover what actually did happen, while of course falling for each other.
I loved Colin and Madeline. Unique, true to character throughout, growth and change. Love it! The scenes between the two of them were well crafted as well. The one sex scene was wonderfully sensual and fit well with these two.
I think why I didn't give this more stars was while I liked the story, sometimes it was a little jarringly written. We mostly followed Madeline and Colin, but then would be abruptly transported for a paragraph or so to some side character from Colin's large family's mind. Or Colin's large family's enemies large family.
I can see why this is a series.
I dont know if the feeling of being bounced around a bit was just me, but it pulled me out of the main story between Colin and Madeline. I see why some of it was necessary because of how the plot progressed, but still. The ending gave me the same, strange feeling too.
Despite all of this it was a satisfying story, I completely enjoyed the uniqueness of the plot though it failed a bit on the execution, and I will continue on with the series.
*Ha! A pun!
I love puns!