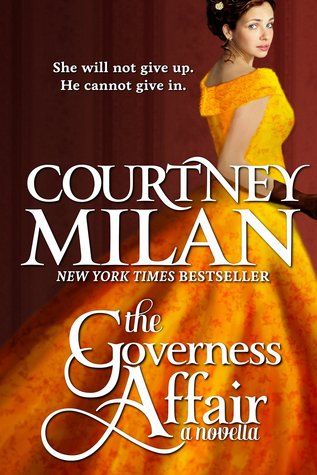 Book Title/Author:
The Governess Affair
by Courtney Milan
Publisher/Year Published:
April 2012, Self Published by Courtney Milan
Where I got it:
Barnes and Noble Nook store
Rating:
4/5 stars
Summary:
via Goodreads
She will not give up…

Three months ago, governess Serena Barton was let go from her position. Unable to find new work, she's demanding compensation from the man who got her sacked: a petty, selfish, swinish duke. But it's not the duke she fears. It's his merciless man of business—the man known as the Wolf of Clermont. The formidable former pugilist has a black reputation for handling all the duke's dirty business, and when the duke turns her case over to him, she doesn't stand a chance. But she can't stop trying—not with her entire future at stake.

He cannot give in…

Hugo Marshall is a man of ruthless ambition—a characteristic that has served him well, elevating the coal miner's son to the right hand man of a duke. When his employer orders him to get rid of the pestering governess by fair means or foul, it's just another day at the office. Unfortunately, fair means don't work on Serena, and as he comes to know her, he discovers that he can't bear to use foul ones. But everything he has worked for depends upon seeing her gone. He'll have to choose between the life that he needs, and the woman he is coming to love…
I loved this. Best 99 cents spent ever.
The Story
The Governess Affair
is about two non-noble (yay!) people. Serena was a governess cast out because of her unchaste behavior. Hugo is the duke's "man" who is trying to solve all his money problems so that Hugo can get some money of his own. They run into each other when Serena refuses to leave the front of the Duke's house until he owns up to his behavior. Oh yeah, he raped her and got her with child. Serena is confused and doesn't think it was forced because she didn't scream. Happy story, right?
Well Hugo is charged with getting rid of her and he slowly learns the facts to what happens. As that happens he also learns what a joy Serena is and they fall in love.
This is a novella at about 250 ish pages (says my nook) but never once did I feel rushed or think that I was getting cheated. This story was brilliant in the way that it handled what was going on. This book is to set up Milan's new series as we can see through the epilogue. I thought it did well on it's own.
I am torn on if I wish we saw more of them. An additional 50 pages may have been good to flesh out the ending with Hugo especially, but overall, unlike a lot of reviewers, I didn't mind the length that it was.
The Characters
Let's look at Serena. She was never defined by the fact that she was raped. She took it as something that happened to her, and she needed to move on for the sake of her child. And I loved it. Her character was super well rounded and strong.
Hugo was smart, witty and ambitious. He was also super well-rounded. He knew what was happening between them and tried to come to terms with that while keeping his main goal (being the riches coal miners son in all of England) in sight.
The Romance
More love here. You see, it is be very hard to deal with the rape aspect in romance novels. You want it to be serious enough but have the woman be able to move past it enough to be with the man she loves. I think Milan does excellent here. The sexy times scene is probably one of my favorites ever. I don't want to say any more because I want you to go spend 99 cents and read this!
The Execution
For a novella and for a full length novel, I adored this. There were some things that maybe could have been fleshed out more for a full length novel, but I really didn't mind. I bought their romance in the time it occurred in because of how they communicated with each other. There is one letter writing scene that I just adored.
The Overview
I don't know what more that I can say except add me to the mass of people who adored this book. I need a new word besides adored but it's true. It will be an excellent 99 cents spent if you buy this. Milan's writing is brilliant and she give it her all even though this is a novella. I can't wait for the series this sets up :)