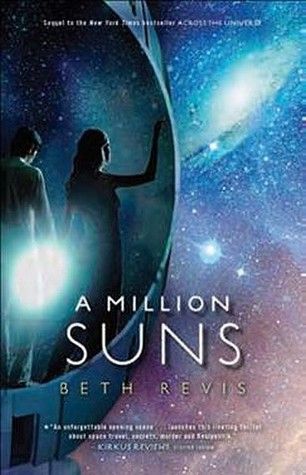 Book Title/Author:
A Million Suns
by Beth Revis
Publisher/Year Published:
January 2012 by Razorbill
Where I got it:
The library
Series:
Second in the Across the Universe Trilogy
Rating:
4/5 stars
Summary:
via Goodreads
Godspeed was fueled by lies. Now it is ruled by chaos.

It's been three months since Amy was unplugged. The life she always knew is over. And everywhere she looks, she sees the walls of the spaceship Godspeed. But there may just be hope: Elder has assumed leadership of the ship. He's finally free to enact his vision - no more Phydus, no more lies.

But when Elder discovers shocking news about the ship, he and Amy race to discover the truth behind life on Godspeed. They must work together to unlock a puzzle that was set in motion hundreds of years earlier, unable to fight the romance that's growing between them and the chaos that threatens to tear them apart.

About this time last year, I reviewed the first book in this series,
Across the Universe
. I remember wanting to read it from the buzz I had seen in the blogger reader world, and also because I couldn't take my eyes off that
breathtakingly gorgeous cover
.
In summary, I loved the first book. Devoured it in 24 hours almost. I've been looking forward to the sequel for a while. And now it is hear and read.
And just as awesome as the first one.
Not to give too much away about the first book, but we left the story with the 16-year-old Elder in charge. And things go south pretty quickly. Elder is trying to fix all the problems while warring with doing what he really wants, spending time with Amy the girl from Sol-Earth. Amy has her own fascinating story arc with a nice mystery twist.
Elder and Amy's characters were just as dynamic as the first book, showing ever growing well rounded personas. Nothing is cake and cookies in this book, and each teen is dealing with that in their own way. I really enjoyed these characters and could empathize with all of their feelings. The writing and style convey this really well.
One downside is that the non-main characters are not as well rounded as these two. Though they are close to being plot points that can talk, ultimately they are fine especially because the plot picks up for any lost character development. I guess this is also a limit from the first persons narratives. The villain to me was really predictable, not so much in his actions but the twists surrounding the character. The plot however sometimes did throw me for a loop.
The plot was another thing this book does exceptionally well. I was always eager to find out more of what was going on, turning the page to get my fix. What sort of clues are on this ship? What actually is going on? I read this book in two large stints because it was that page-turner good.
This is a great middle book. It sets the third book up well but doesn't just serve as a bridge between the first and last. It has a strong plot and the main characters are continually growing and changing, and it left me champing at the bit for the final book,
Shades of Earth
.
The cool thing about this series is it is science fiction fantasy but not in such a way that makes me want to claw my eyes out or feel like I am being talked down to. If you are interested even remotely in dramas set in space, give this series a go. The first person narrative that switches between each chapter can be jarring at first, but it really adds to the feel of the story.
So in short: Ingenious storytelling, excellently wow.