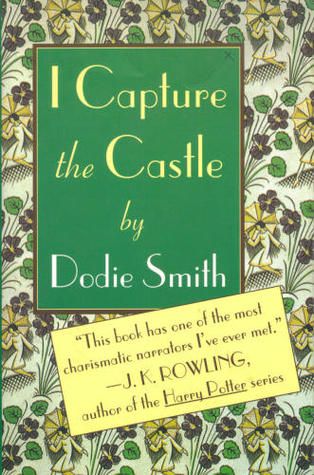 Book Title/Author:
I Capture the Castle
by Dodie Smith
Publisher/Year Published:
July 1999 by St. Martin's Press (first published 1948)
Where I got it:
Boarders Blowout last year
Rating:
4/5 stars
Challenges:
March Entry from
TBR Pile Challenge
Summary:
via Goodreads
I Capture the Castle tells the story of seventeen-year-old Cassandra and her family, who live in not-so-genteel poverty in a ramshackle old English castle. Here she strives, over six turbulent months, to hone her writing skills. She fills three notebooks with sharply funny yet poignant entries. Her journals candidly chronicle the great changes that take place within the castle's walls, and her own first descent into love. By the time she pens her final entry, she has "captured the castle"--and the heart of the reader--in one of literature's most enchanting entertainments.
I have had
I Capture the Castle
on my to-read list for years. In fact Goodreads said I added it to my shelves in August of 2009! So almost three years later, I got around to reading it. And it was quite a good book.
Cassandra is our narrator of this story and she chronicles the going on of her family, who are destitute and living in a ramshackle castle, through a series of journals. You can see her writing become better as the story progresses. Cassie is the middle child of a famous ex-writer. She lives with her older sister, Rose, a beauty who's only hope for bringing the family income is marriage; her younger brother Thomas, still in school; her step-mom Topaz, a former model for famous painters; her father the ex-writer who does nothing all day much to the dismay of the family; and Stephen, a son of a former maid who grew up with the family and is the only one providing any income for them to live and is in love with Cassie.
The cast of characters in this novel are remarkably well rounded. I loved the interactions between them all, and those interactions really drove the plot. The first few chapters are getting to know them and their situation, but the plot really begins when two men stumble into the castle one day. These two men are the new owner of the castle they rent, Simon, and his brother Neil.
Shenanigans ensue.
I really enjoyed this book. It was a fun read and toward the end it was hard to put down. The narrator was sometimes a pain to deal with because she had teenager like tendencies and thus would ramble out love and miss the obvious. But that's expected. It was an artistic choice that sometimes didn't work for me, but sometimes did. I know this sounds really wishy washy. Let's see if I can give an example. Cassandra falls in love in this book. It's her first love so much of her journal is about him. Expected of a 17 year old? Absolutely. Good reading material? Not really.
By the end of the book, I had wished the outcome different with her and one of the guys (trying to stay vague here), but it was still a satisfying conclusion.
I would recommend this to people who like historical fiction and a fun set of love stories. It really is just a picture of these peoples lives, a really interesting picture too.
I am glad I finally read it, and I am glad I own it because I will probably be reading this one again.